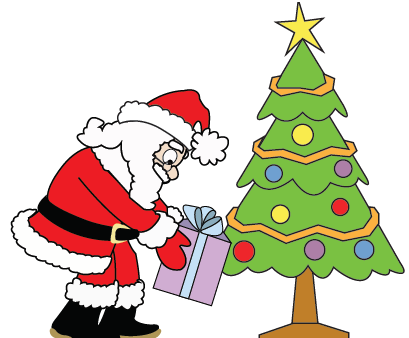 Many look at Christmas break as a time to drink hot cocoa, unwrap presents and celebrate different traditions and religions.
Ferris elementary education freshman Tayler Moore celebrates Christmas and grew up, like many Americans, believing in Santa Claus.
Moore likes to participate in various Christmas traditions such as the white elephant present exchange, gift exchanging among family members and her more favorite tradition of spending time with her family.
Moore plans to pass on the tradition of believing in Santa Claus to her future children someday. She believes that the tradition is magical and a fun time for children.
While Moore enjoys the magic of Santa Claus, Ferris international liberal arts sophomore Erina Ueno's favorite part of Christmas is when towns are illuminated with Christmas lights. Ueno enjoys walking during the holidays at night to enjoy the scenery.
Ueno is from Japan and said that because Christmas is originally a Christian event, Americans put more emphasis on the holiday than Japanese people.
"Christmas here is much more exciting because the whole town celebrates Christmas," Ueno said.
Although many families in the United States spend Christmas with each other in the comfort of their own homes, Ueno says that Japanese people like to spend Christmas outside by going to a restaurant or an amusement park.
Christmas isn't the only holiday celebrated over winter break in Japan; New Year's Day is also an important holiday. Ueno said that in Japan, New Year's is celebrated with more emphasis than Christmas.
"On that day we eat osechi," Ueno said. "Osechi is a Japanese traditional tiered lacquer ware box similar to a special lunch box."
Along with osechi, another Japanese tradition on New Year's Day is to eat lots of food, and with each of these foods there is deeper meaning. According to Ueno, shrimp represents longevity. Its meaning comes from its shape because its bending back symbolizes the elderly.
Ferris journalism freshman Seoyoung Lee is another student whose culture celebrates New Year's more than Christmas. Lee said that young people and Christians are typically the ones who celebrate Christmas in Korea. Being a young adult herself, Lee likes to spend time with her boyfriend and friends during the holidays.
This is Lee's first Christmas experience in America. This caused her to notice some similarities and differences between the two cultures.
"When I was young, we would decorate a Christmas tree in my home. But these days, most people do not have Christmas trees in their homes," Lee said. "A Christmas tree is usually in a big downtown area instead."
In the U.S., people decorate anything they can find—houses, streets, trees both indoors
and outdoors. Although Christmas decorating is something Lee discovered is done in both Korea and the United States, in Korea they don't decorate streets until the middle of December.
Although Christmas is a big holiday in some cultures, others do not celebrate it at all.
Ferris computer information system senior Faisal Alfadhli is an international student from Saudi Arabia.
"As a Muslim, I do not celebrate Christmas," Alfadhli said. "However, I enjoy seeing the lights on the streets and houses."
Because Christmas is not a Muslim holiday, Muslim countries do not typically celebrate it. Alfadhli said that it is not uncommon for Muslims in the United States to request that their children do not attend Christmas functions at school because of clashing beliefs.
Alfadhli said that if he were to have children in the future, he would like them to be more open-minded and to show them the diversity of people and cultures.
Ferris gender and diversity senior Sangita Khadka is an exchange student from Germany, but is a citizen of Nepal.
Khadka's religious holidays are Dashain and Tihar but Christmas is also celebrated in Nepal. She considers herself a mixture of Hindu and Buddhist religion.
During Christmas, Khadka likes to cook a variety of foods because she enjoys feeding people. Sel roti, a special kind of homemade bread, is a common food that is made during the holidays. Khadka said that during festival time, 10 to 20 items of food are made. Some of these foods include aaloo ko achar, khir, pulao, meat, rajma, chana, gobi, soybean, bodi tama, and different kinds of curry.
"Christmas differs according to culture but I never feel any differences," Khadka said. "The way of celebrating is different, but the belief and value of culture and tradition is the same."