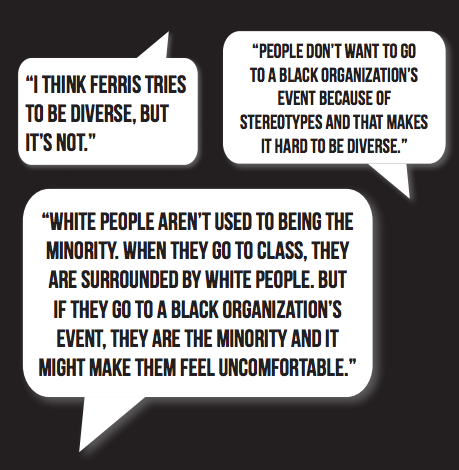 Ferris students attended an event to anonymously talk about stereotypes and expressed their feelings in a safe place.
Students gathered in a room and walked around randomly. While the lights were on, a question was read. After the question was asked, the lights were turned off and the students stopped walking. Students then were able to express themselves freely knowing that their answers were anonymous.
"I came out tonight because I wanted to support NAACP because it's important and we are always trying to push diversity and unification," said Ferris business data analytic junior Chrissy Melton-Davis. "We can't push diversity if we don't come out to these events."
"I went to the Blackout event because I wanted to hear other people's opinions about current topics and social issues," said Ferris history junior Shana Kirby.
Ferris healthcare system administration and respiratory care junior Imani Meeks came to the event so the campus could be more unified.
"It was a place for us to speak our mind and to say things without being judged and that is why I wanted to come," Meeks said.
The event was held from 6 p.m. to 8 p.m Tuesday, Nov. 28, in the IRC.