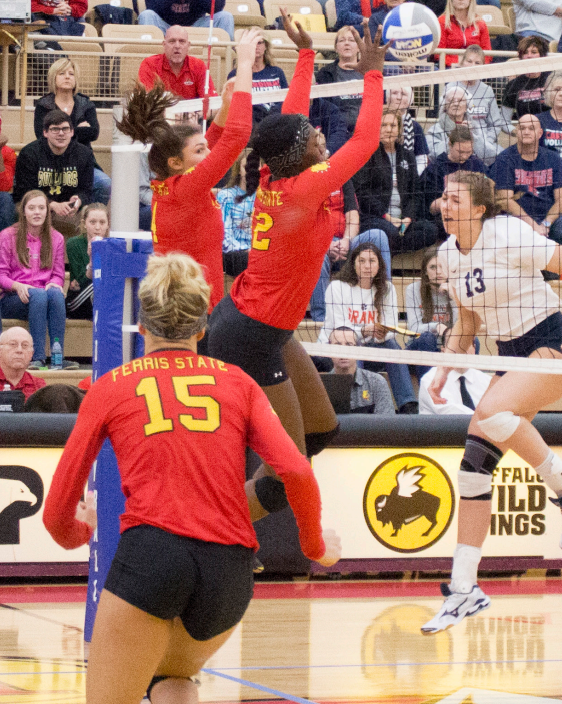 Ferris volleyball finished a storybook season Saturday, Nov. 28, as they fell to Lewis in the NCAA Div. 2 Midwest Region Championship.
Coming into this season, many said it would be a struggle for a team that was forced to build a young roster to win games. It appeared those people might be correct after the Bulldogs went 4-5 to start their season.
Then the Dawgs did what they have done for four straight seasons—they won. The Bulldogs silenced all critics as they went on a 26-game winning streak that earned them a Great Lakes Intercollegiate Atheltic Conference (GLIAC) championship.
"We outperformed everyone's expectations," said junior outside hitter Ayanna Buckley. "We lost a lot of seniors to graduation, but everyone on the team stepped up and we did just as well as we did last season."
Last season, the Bulldogs fought their way to an impressive 33-3 record and a GLIAC Championship, eventually losing 3-2 to Rockhurst in the Midwest Region Championship. The numbers this year are extremely similar with a 30-6 record, a GLIAC Championship and a 3-0 loss to Lewis in the Midwest Region Championship.
Ferris volleyball must build another great roster this offseason, as three impact players in setters Jenna Way and Stephanie Sikorski, along with libero Kaley Konjarevich are set to graduate.
"I think our future is promising," Buckley said. "I have faith in our coaching staff to continue to bring in talented freshmen."
The coaching staff did a great job bringing in talented freshmen for the 2016 season in setter Maeve Grimes and outside hitter Allyson Cappel.
Cappel has become a household name around Ferris State with her spectacular performance in 2016. She led her team this season in kills with 434 and reeled in three GLIAC player of the week awards for volleyball.
With a promising upcoming roster that is filled with raw talent, the Bulldogs should have no problem finding success yet again in 2017.