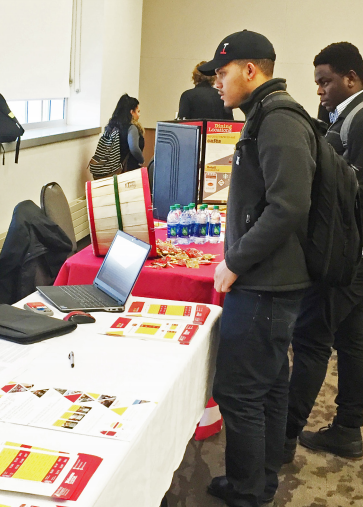 An early contracting event for the 2017-18 school year was held last week courtesy of the Office of Housing and Residence Life.
Several incentives were available as a reward for signing up early including a drawing for a 55-inch Google Cast television for those who signed up on the first day.
Lisa Ortiz was present at the event throughout the day. Ortiz is Ferris' assistant director of the Office of Housing and Residence Life.
"Students are very excited for the opportunity for the giveaways but also to live back on campus and have first choice of where they are going to live," Ortiz said.
Ortiz also explained that this was particularly important for students who require family or apartment style housing.
Before the event started, a line could be seen stretching from across the second floor of the University Center.
Ferris graphic design freshman Madison Martin was encouraged to sign up early by a friend who works for the Office of Housing and Residence Life.
"I want a free TV. We don't have a TV right now," Martin said.
Martin and her friends are planning on living in the two bedroom style apartments.
Students were able to get $40 in Bulldog Bucks for signing an early housing contract and an additional $40 for signing up for a meal plan.
Ferris actuarial science sophomore Zac Wheelis lives in Cramer Hall and intends to live there again next year. Wheelis said he was excited for the Bulldogs Bucks and spends nearly all of them at Starbucks.
"I like that it is all on one bill. I don't want to deal with bills yet," Wheelis said. "My dad called me and told me to sign up. He wanted me to have the chance to win free stuff."
Also on the list of incentives was a free single room and a free gold meal plan for a semester.
In addition to the chance to win raffle prizes, participants were given snacks, gift bags and a long sleeve t-shirt for signing up. Ferris juniors and seniors were also given a free parking pass for the 2017-18 school year.
The event was held from 9 a.m. to 4 p.m. at the University Center last Wednesday, Nov. 30.