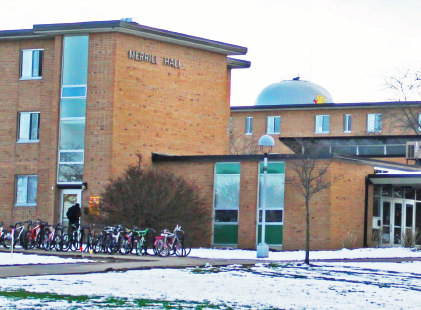 Residents of Merrill and Travis halls received an email last week from the Office of Housing and Residence Life announcing that the halls will be going offline at the start of the 2017-18 school year.
"As part of this commitment, the University continues its work to improve on-campus housing options. We encourage you to visit ferris.edu/housing to view a variety of on-campus living options that are available to you, which include: halls, suites and apartments," read the email sent to current Merrill/Travis residents.
It's not unusual for the residence halls at Ferris to become more than a place to sleep for many students.
"The student staff of Merrill/Travis didn't take the news very well either. Many of them were either frustrated or sad that Marrill/Travis is coming down. I don't want to see Merrill/Travis come down. It's a home to many of us," said Ferris graphic design sophomore and Desk Services Assistant (DSA) Morgan Dodson. "I started crying when I heard the news that Merrill/Travis was being torn down. This would be my second year living in the hall, so I've called it my home."
According to Dodson, the halls typically house freshmen and a few sophomores, which the new residence hall being constructed on north campus will also serve to do.
"Merrill/Travis is closing because it's part of a restoration project that plans on taking down other older halls across campus," Dodson said. "We are just the first hall of many. That's also why the new hall is being built in North Quad and why tuition rates went up this year."
Ferris respiratory care sophomore and Resident Advisor (RA) at Merrill/Travis Dyimond snow reported that a lot of students planned on returning or moving back to the halls next year.
"No. I don't see why it's closing at all. I feel like there are other options instead of closing MT," Snow said. "The news breaks my heart. I'm an RA in MT and this building has taught me so many things and houses memories, lessons and residents."
Many students don't feel that it's necessary to close down the halls, which has one of the largest capacities on campus, according to Dodson.
"If something isn't broken, don't fix it," Dodson said.
"The diversity of the hall is what makes it so unique. There are so many different types of people who live in such a big hall. It's awesome to see what a difference Merrill/ Travis makes in students and their lives on campus."