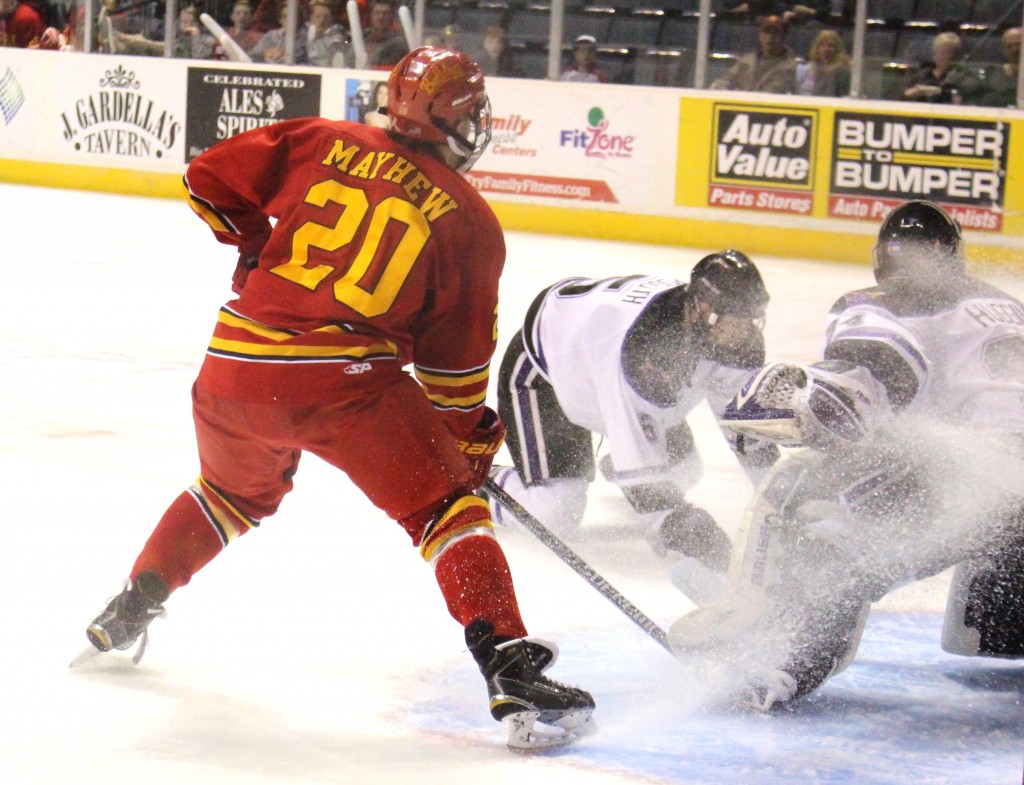 The Ferris State men's hockey team continued their winning ways Friday night as they kept Minnesota State off the board in a 3-0 victory.
In a rematch of last year's WCHA Championship Game, the night started off in a deadlock. Neither team scored through the first period. The sticks heated up for the Bulldogs in the second period however, as they scored two quick goals in the first five minutes and added another near the 40-minute mark.
Sophomore forward Corey Mackin started off the scoring for the Bulldogs as he found the net 34 seconds into the second period. Senior forward Chad McDonald also scored early in the second, scoring a goal two minutes into the period.
Then, 15 minutes into the second period the clock struck Gerry Time for the Bulldogs. Senior forward Gerald Mayhew tickled the twine for the last goal that either team would see for the night.
Senior forward Jared VanWormer was crowned assist king for the night, as he assisted on both Mackin and Mayhew's goals.
The third period also ended in a deadlock as both teams traded shots but none found the back of the net.
Bulldog fans may have been a bit surprised, as sophomore goalkeeper Darren Smith started for the second consecutive game. The goal has been occupied quite well by freshman goalkeeper Justin Kapelmaster for most of the season, but the coaching staff gave the nod to Smith instead.
Smith was outstanding in last weekend's matchup, allowing just one goal in the Bulldogs' victory. It wouldn't be a surprise to see Smith start for the Bulldogs in the coming weeks, as he has accumulated 53 saves in the last two games and allowed just a single goal.
No matter who is on the ice, the 7-10-1 Bulldogs will look to complete their second sweep of the season Saturday, Dec. 10, at 7:07 p.m. in Ewigleben Ice Arena.