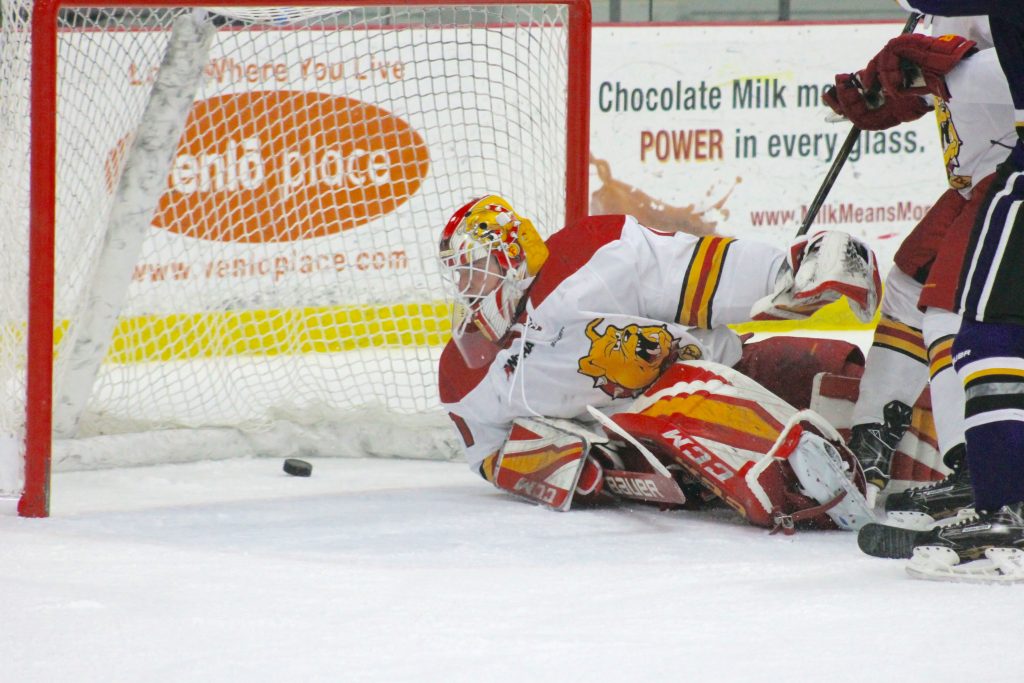 The Bulldogs and Mavericks seemed to throw out the rule book in a game where both teams combined for 56 penalty minutes in 60 minutes of play.
Ferris State came roaring out of the gates hot off a 3-0 victory on the previous night by scoring the first two goals of the game in the first period. Ferris senior left wing Jared Van Wormer got the scoring started by firing a rebound shot over MSU goaltender Cole Huggins' left shoulder. Senior right wing Gerald Mayhew and sophomore center Corey Mackin were credited with assists on the play.
"Seemed like a scrum in front of the net. Everybody was kind of looking for the puck and it found my stick and I just put it where the goalie wasn't," Van Wormer said. "I think I had a slow start [to the season], but I'm starting to find the back of the net."
The bulldogs' second goal came midway through the first period when freshman defenseman Joe Rutkowski was able to find twine while on the power play. Senior right wing Chad McDonald and junior center Drew Dorantes each earned an assist on what would be Ferris' final goal of the game.
Minnesota State would respond with three unanswered goals through the second and third periods while outshooting Ferris 22-11 during that span. The Bulldogs totaled only four shots while serving 19 penalty minutes in the third period.
"All of the sudden there's attack time that we don't have and we end up spending that time in our own end trying to kill," Head Coach Bob Daniels said. "We're using Gerald Mayhew and Mackin to kill penalties which they do a great job, but now they're getting tired out so to try to generate the offense is difficult."
Ferris sophomore goaltender Darren Smith got the start in net and tallied 35 saves despite his team being on the penalty kill for 35 minutes of action.
"As I evaluated both goaltenders throughout the week in practice I felt that Darren's game was rounding out more towards what we had seen last year. Very confident, very comfortable," Daniels said. "He was probably our number one star tonight. I thought he had a whale of a game tonight."
With the loss, the Bulldogs fall to sixth place in the WCHA standings with a 6-7-1 conference record.
"Tonight Minnesota State wanted it more than we did. In the second and third period they were hungrier in our zone and we were kind of flat-footed reaching for the puck," Mayhew said. "We have to figure out how to win two games or else this season could go downhill."
The Dawgs will take an extended break over the holidays before returning to action at Robert Morris (Pa.) Thursday, Dec. 29, at 7:30 p.m. as part of the Three Rivers Classic Tournament in Pittsburgh, Pennsylvania.