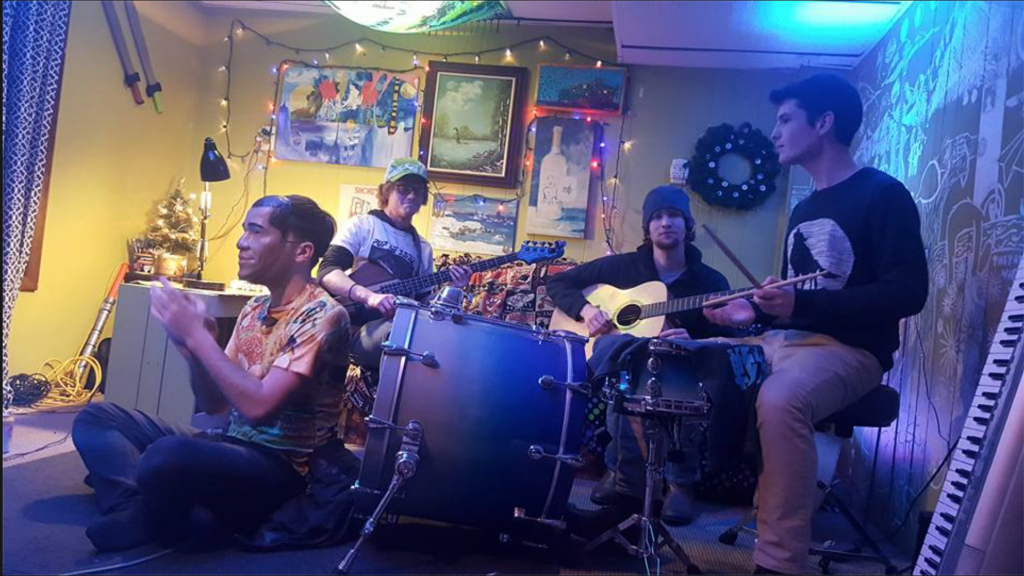 Two Ferris students spent the last Friday of the semester broadcasting a live performance from their basement to raise money for the Wesley House Student Emergency Food Pantry.
Ferris public relations senior Devin Anderson and Ferris nuclear medicine technology senior Meredith Hague co-hosted the first ever Avocado Telethon from the basement of their Ives Street home. The event was streamed live on Anderson's YouTube Account, running from noon to almost midnight.
Anderson and Hague hosted 20 acts with around 50 total performers participating in the basement telethon. Performances ranged from DJ CHoFF to Beach Thief's last show ever to the Ukulele Club to a Puppet Theatre hosted by Ferris welding engineering technology student, John Crawford.
Roommates Anderson and Hague conceived the idea only a few weeks before the event was held, and agreed the basement of their house would be the perfect location.
"There's always people running in and out making or playing music in the basement and it's an awesome environment for sound," said Hague.
Anderson added that the basement would look the way it did during the telethon even without the live stream.
"We just wanted an excuse to do a live stream and were like, oh let's do it for charity. Then we just heard about this food pantry which had a good tie to ferris and just decided to go for it," said Anderson.
While the stream was running, a GoFundMe link was attached to the stream and Facebook event page collecting donations for the food pantry. An original goal was set at $500, before eventually increasing the goal to $1,000 as the donations began to pile in. Before the conclusion of the live broadcast, $1,114 was raised.
Before the final goal was reached, Ferris music industry management senior Shawn White agreed to have part of his hair cut off on stream if $1,000 in donations was collected. The feat was reached and with a couple hours left on the telethon, Hague gave White a haircut.
Ferris criminal justice senior Olivia Johnson coordinates the Wesley House food pantry for the Ferris students in need of assistance.
"The food pantry is for students who are in need," said Johnson. "Basically, if you bring your student ID in and fill out a 10 question questionnaire, we can get you some food, up to about 30 meals."
The Wesley House Student Emergency Food Pantry is housed at Ferris' Wesley House located at 628 Warren Ave. A GoFundMe page supporting the food pantry is still accepting the donation, and can be found here.