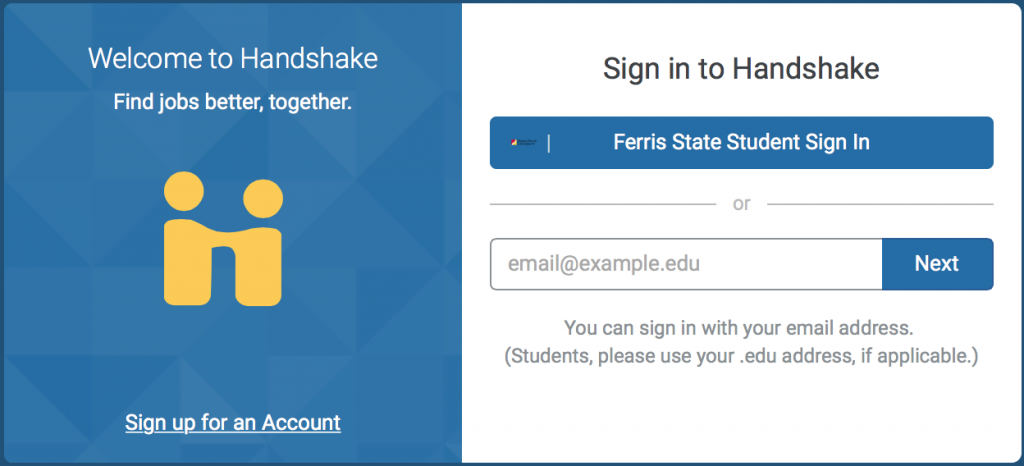 Graduating college is hard enough, but throw in a career search and life becomes downright strenuous.
Enter Handshake: a company that allows job recruiters to connect with students from all over the country, not just the normal "core schools." According to the creators, Garrett Lord, Scott Ringwelski and Ben Christensen, they created Handshake to, "transform university recruiting for the 20 million higher education students across the country and ensure that every student would have the same access to every job, no matter where they go to school."
The three graduated with a degree in engineering from Michigan Technological University and were fed up with how little job recruiters made their way to the Upper Peninsula.
Handshake is a website that can be used as a tool to find jobs for students as they prepare for graduation.
"Handshake offers a place where students, alumni, and employers can find each other. It will hold career and internship postings and resume and portfolio documents. It also allows employers and students to connect with each other in ways similar to popular social media sites," CLACS Director and Coordinator of the Leadership Center Angela Roman said.
Handshake is easy to use and is accessible to all Ferris students and faculty. According to Roman, it was brought to Ferris to increase opportunities for students.
"As we evaluated the CLACS Career Center services, we realized our current system, Bulldog CareerLink, was not being used as much as we had hoped. Our assessments told us that students and employers were looking for a more intuitive and customizable solution to meet their employment needs. Handshake is new to the market as a Career Center tool but quickly made headlines that it was more customizable to each unique student and was very user friendly. We completed multiple demos and decided this was something our students and alumni would use."
To sign-up for Handshake students simply need to log on to their MyFSU.
"Student and Alumni login to MyFSU and click on the new Handshake icon in their quick-links. It is that easy," Roman said. "Complete your profile and add job search documents as you see fit. Then start browsing through job listings and begin contacting employers. The more you use Handshake the better the results will be."
The website is free of charge and can even be used by students after graduation.
"I most like that the Handshake tool is quickly being brought to many Universities and the job postings are shared. Ferris State students will see many more job opportunities now," Roman said.
Computer information's systems and accounting senior Kristen Bonkowski was excited about more networking opportunities being offered to Ferris students.
"I am more likely to use Handshake because it is affiliated directly with Ferris. I don't have a LinkedIn or anything like that, so this would be a good networking tool for me," Bonkowski said.
For more information, go to www.myfsu.com.