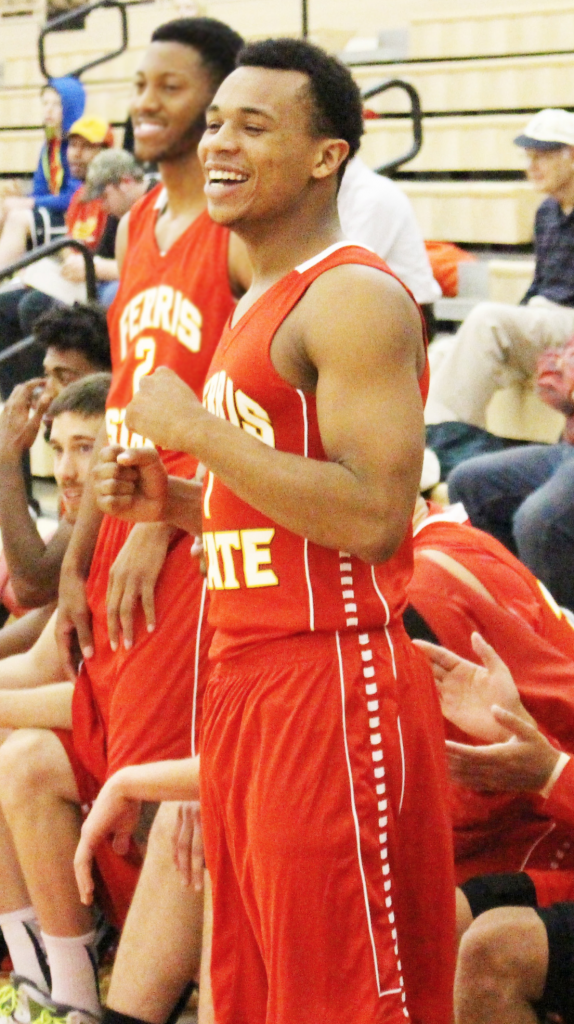 The Ferris State men's basketball team knew they were in for an offseason of work after four of their starters received diplomas last year.
Center Jared Stolicker, forwards James Chappell and Josh Fleming and guard Jibreel Jackson all started upward of 30 games for the Bulldogs last season before trading in their jerseys for a cap and gown.
A question that floated through the minds of coaches and players alike was: who's going to lead this team? With just one senior on the roster heading into this season, naturally all eyes fell on guard Quentin Ruff.
"As the only senior on the team I have to take on new responsibilities," Ruff said. "I have to be more of a vocal leader and produce as much as I can on offense and defense."
Ruff was a role player for the Bulldogs last season, averaging 15 minutes per game and averaging seven points as well as one assist in each of the 34 contests he played in. While those numbers were good for a rotational play- er, many wondered what Ruff would be able to do in the starting lineup.
Fast-forward to the current season and Ruff has started 10 games for his team, doubling both his scoring and assist averages from last year with 12 points per contest and two assists. Along with those numbers, Ruff is also fourth on his team at four rebounds per game.
All statistics aside, Ruff's teammates are aware that he is the only senior and never let him forget it.
"It's kind of funny actually," Ruff said. "I'm the only senior, yet there are some guys that are sophomores who are younger than me by like three months. They never hesitate to let me know that I'm getting older though."
With Ruff stepping into a leadership role, other players around him have started to evolve into key players as well.
Junior guard Drew Cushingberry and sophomore center Zach Hankins have shown flashes of excellence to this point in the season, with 8.5 and 16 points per game respectively.
The Bulldogs record reflects their efforts as they have blown out of the gates to an 11-3 record.
"We just need to stay focused and continue to grow as a team," Ruff said. "We still have a few things to correct and we need to build more chemistry but I think we can improve and continue to be as successful as we have been so far."
The Bulldogs will look for their sixth consecutive win behind the likes of Ruff, Cushingberry and Hankins as they pack their bags to take on Lake Superior State 7:30 p.m. Thursday, Jan. 12.