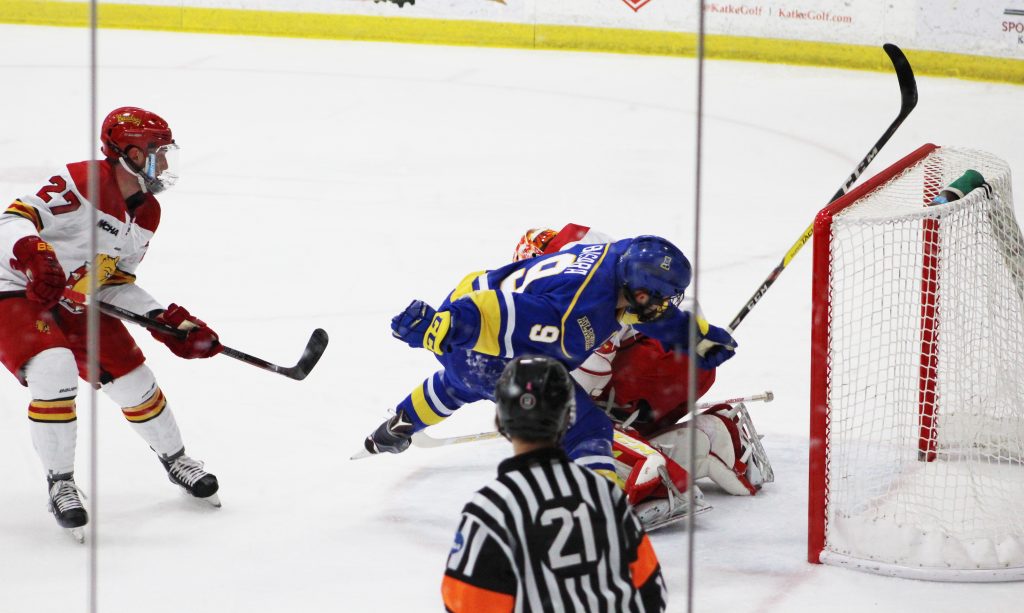 After making the trip to Alaska to take on Alaska Anchorage last week, Ferris hockey hosted another Alaskan team in the Nanooks tonight in a controversial losing effort, 4-3.
The Dawgs struck first after senior forward Gerald Mayhew cleaned up a shot from senior forward Jared VanWormer. The goal at 10:20 in the first was Mayhew's eleventh of the season.
It wasn't much later until Alaska Fairbanks was able to find their first score of the evening at 13:30 in the first. Colton Leiter was able to put his team on the board with the goal, assisted by Justin Woods, making it a 1-1 score heading into the second period.
The Nanooks fired again in the second period after Brandon Morley slid one by Bulldog freshman goaltender Justin Kapelmaster at 7:30 in the second. He was assisted by Austin Vieth on the goal, putting the Nanooks up on Ferris State 2-1.
The Bulldogs took over once again at 11:43 in the second to even the score at 2-2 when senior forward Chad McDonald netted his 5th goal of the season with assists from Mayhew and senior defenseman Ryan Lowney.
With seniors taking over the scoring for the Dawgs up to this point, junior forward Drew Dorantes thought it was time the younger guys took over with a goal of his own at 18:22 in the second period. He was assisted by freshman defenseman Nate Kallen and McDonald, giving the Dawgs a 3-2 lead heading into the third.
The shootout of a game continued when Troy Van Tetering of the Nanooks netted one early at 1:38 in the third period on a power play. He was assisted by Marcus Basara and Nick Hinz of Alaska to make it a 3-3 game. Tensions ran high midway through the third, creating power play opportunities for both teams without capitalization.
The regulation scoring stopped there, sending the game into a 5-minute sudden death overtime period. The first overtime period offered nothing in the way of scoring after some great saves from Kapelmaster, sending it into the second overtime period.
The five minute three-on-three double overtime period took off with exciting action before Austin Vieth of the Nanooks put one in the left side of the net after Kapelmaster was interfered with and knocked down by another Nanook. With no call from the refs on the ice, the game came to a close in favor of the Nanooks, 4-3.
Kapelmaster finished the night with 49 save while goaltender for the Nanooks Davis Jones ended the night with 37 saves. The Bulldogs are back in action at 7:07 p.m. tomorrow night in Big Rapids at Ewigleben Ice Arena.