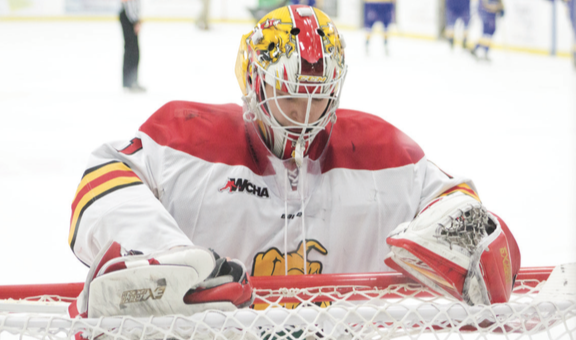 The Bulldogs haven't won a game since Friday, Dec. 9, but they'll be looking to turn the tides when they take on the Bemidji State Beavers this weekend.
"I know everyone is kind of disappointed right now, but we've got Bemidji," said senior right wing Gerald Mayhew. "They're a great team this year so I think if we can start there and get two there then we can continue to roll and get some wins."
The Bulldogs met Bemidji State four times last season, going 2-1-1 against the Beavers with just one game decided by more than one goal.
Ferris is 6-9-3 in conference play this year, which places them in a tie for sixth place in the WCHA. Bemidji State is in first place in the conference with a 15-3-2 WCHA record.
"They've been a good team for a number of years and this year they really seem to have it going. I don't know what their secret is," said Ferris Head Coach Bob Daniels. "Obviously they're playing well and seem to be good from the net right on out. Tom Serratore is a great coach. I have a good feel for how they play—they may have adjusted— but they've always been a really solid defensive team and I would expect that through this weekend."
Bemidji State leads the league in goals this season, having allowed just 26 goals to their opponents despite playing two more games than almost every other team in the conference. Meanwhile Ferris has allowed 51 goals, which stands as one of the worst totals in the league.
"We just have to capitalize on our chances really," Mayhew said. "We've gotta move the puck a lot faster and harder, I think. We just have to keep working. We can't get discouraged, but again we have to capitalize on our chances to win games."
A key to the Bulldogs' success this coming weekend will be slowing down BSU senior forward Phillip Marinaccio, who leads the Beavers in goals with eight, assists with
11 and points with 19 this season. The last time the Bulldogs were on the ice, they tallied a season-high 46 shots but still came up short 2-1 in overtime against Alaska Fairbanks. It marked the fourth time Ferris competed in an overtime competition in their past five games.
"I'm disappointed that we did lose, obviously, but I'm certainly not disappointed in how we played," Daniels said. "If we roll that game out each night from now until the end of the year we'll be just fine and get our share of wins. What we want to do is pursue good hockey and good play and then the wins will take care of themselves."
Ferris is striving to host a home playoff matchup for the second consecutive year and will need to finish in the top four places in the WCHA standings to do so. The top eight teams in the conference are eligible for the WCHA Playoffs.
Ferris will take on the top team in the WCHA and the No. 17 team in the nation in Bemidji State 8:07 p.m. Friday, Jan. 20, then again on the following day, in Bemidji, Minn.