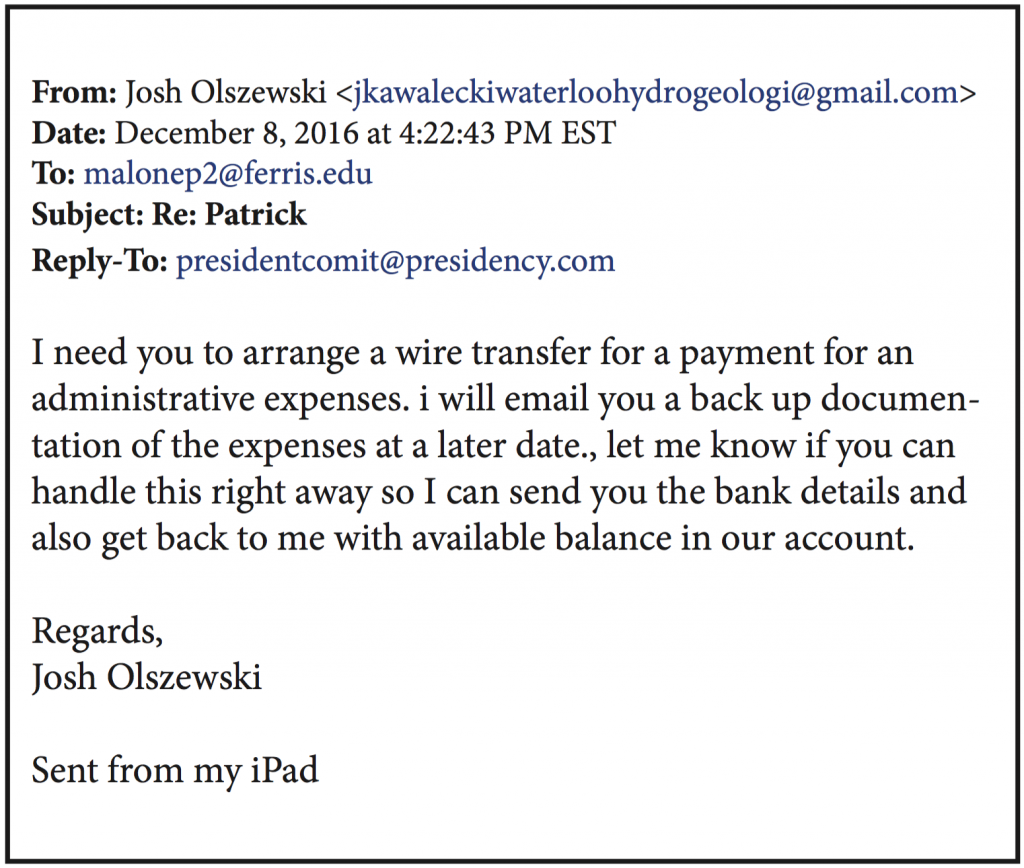 Ferris Student Government Treasurer Patrick Maloney received an email Thursday, Dec. 8, from president@nullgmail.com requesting an undisclosed amount of money through a wire transfer.
The email was allegedly signed by the Ferris Student Government President Josh Olszewski.
After receiving the email, Maloney contacted Olszewski asking what the email was about and if funds still needed to be transferred.
Olszewski said he had not requested a transfer of funds through email or at all.
Olszewski filed a report with Sergeant Tim Jacobs from the Ferris Department of Public Safety (DPS).
It appears that whoever sent the email used the president@nullgmail.com email address as an IP address to hide the identity of the original email.
"Sergeant Jacobs said they most likely found multiple emails from different schools and organizations and then sent a mass email," Olszewski said. "I have faith in the student population, I do not think it was a student."
According to Olszewski and DPS, the email was most likely sent from a foreign country.
Olszewski says that it was not a very sophisticated approach due to its vagueness and how poorly the English was written.
"There is no way for Student Government to transfer money in that fashion," Olszewski said. "Our key card is locked away in our advisors drawer, and we have to send accurate quotes and invoices, there would be no way for us to accidentally send money in that fashion."
Olszewski added that there is always face-to-face interaction when requesting money and it is discussed at their meetings.
"I think Patrick is a great guy, and he takes his job seriously, like he should," Olszewski said. "Every student pays money to student government, and we do not take that lightly, we work hard to make sure that the money goes to events for all students."
Olszewski changed all of his passwords and encouraged his executive board to be aware of more potential situations similar to this so it can be reported.
"This is one of those things where you think 'it's never going to happen to me.' My email is easy to find, as it should be for students to contact me," Olszewski said. "But the fact that someone found it and impersonated me is scary. But it's reassuring to know that we have a great executive board that will question things and make sure things are correct."