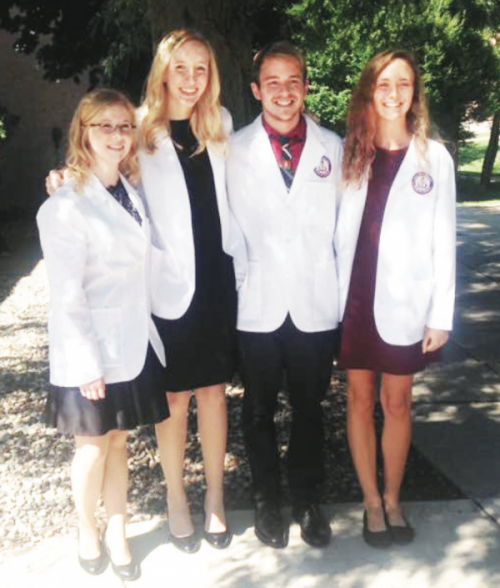 In celebration of National Pharmacist Day, Thursday, Jan. 12, Ferris pharmacy students discussed dedicating the next six years to juggling social lives, good study habits and time management.
Ferris first-year pharmacy student Kathryn Nelson has always enjoyed science-related courses. With her aunt being in retail pharmacy, Nelson became inspired with how her aunt interacted with patients and aspired to build the same relationships, landing her in the Ferris College of Pharmacy program.
"The pharmacy program here at Ferris is a graduate level program that provides the education and skills to mold students into professionals, who will soon be positively influencing the healthcare field as pharmacists," Nelson said. "It's nice to be in classes where everyone has the same shared interests and goals of becoming a pharmacist."
Because she's taking 17 credits a semester, Nelson discovered that studying each night and having professors who are always open to answering questions are the key to a lighter work load.
Ferris first-year pharmacy student Lindsay Cavanaugh has also experienced busy schedules and putting in the time, but discovered the joys of building relationships with other students and staff members.
"We are a big 'pharmily,' which is what we say instead of family," Cavanaugh said. "The teachers have all been wonderful. They know their stuff and always want to help us succeed."
Ferris first-year pharmacy student Brian Wheaton also described pharmacy students as very studious and somewhat nerdy.
Aside from making connections and friendships, the pharmacy program, according to Ferris first- year doctor of pharmacy student Cody Wise, is to pharmacists what medical school is to doctors.
Wise said that becoming a pharmacist was not his first choice. Since kindergarten, Wise wanted nothing more than to become a firefighter. However, when his high school no longer held the class he needed to follow in his family's footsteps, this led him to the only other interesting class available—a pharmacy technician class.
Within days, Wise fell in love with the subject and changed his life plans because of it.
Although, like Wise, Ferris first- year pharmacy student Lindsey Gerstler did not have pharmacy as her original choice, but instead wanted to become an orthodontist in high school, her interest in science and helping people directed her towards the pharmacy program.
"Ideally, I would like to become a long-term care pharmacist and work with the elderly," Gerstler said. "My grandma was diagnosed with Lewy Body Dementia a few years ago, and that really stimulated my interest in how medications affect the geriatric population."
Gerstler has not had a job or internship in the program yet. However, she is looking forward to her three-week internship this summer at a community pharmacy in Michigan.
While some students are awaiting their chance to work in their field, Ferris pre-pharmacy junior Connor Anderson is a student who was able to dive right into his when he arrived at Ferris.
Anderson had the opportunity to volunteer at a pharmacy care clinic dispensing free prescriptions to those in need and was able to job shadow at McLaren Central Hospital.
Having those opportunities only solidified his decision to enter the pharmacy field. Anderson now works at a local pharmacy in his free time and was accepted into the College of Pharmacy for the fall of 2017.
"Working in a pharmacy during undergrad is a great experience to have," Anderson said. "I was surprised by the amount of work pharmacy technicians are allowed to do in the pharmacy and how fun it has been to work there prior to starting grad school."
Anderson said he finds the opportunity to work in a job that applies to his field fulfilling.
"I'm slightly nervous for the high- er difficulty of classes and busy schedules, but my excitement to start grad school outweighs being nervous," Anderson said. "I'm confident enough with my undergrad education from Ferris to do well come fall."