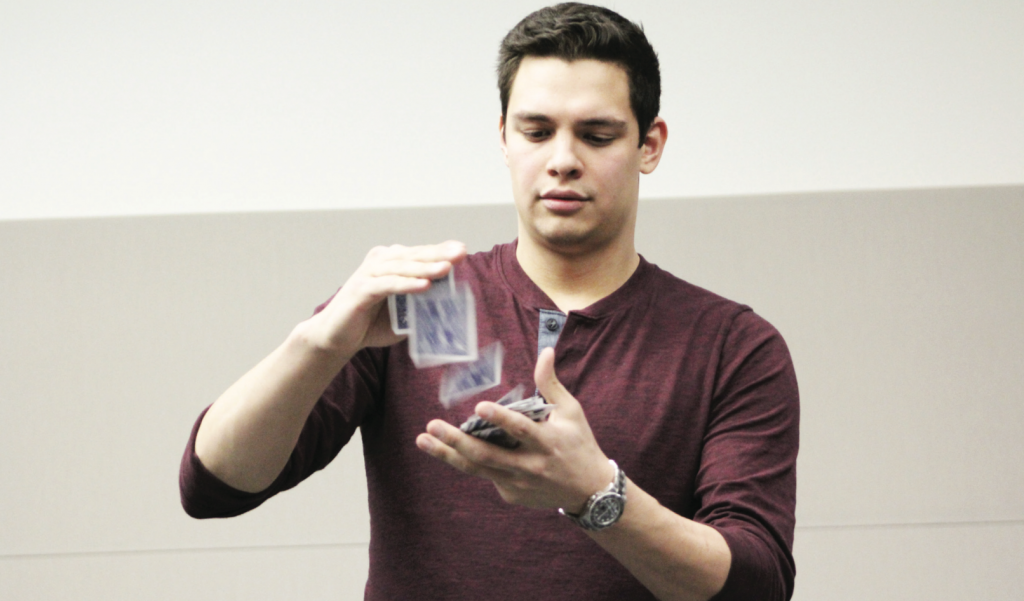 Steven Brundage shared his take on modern magic with a room full of fascinated students Thursday, Jan. 12, in the University Center ballroom.
Ferris' Entertainment Unlimited (EU) hosted the award-winning magician, whose signature Rubik's Cube magic carried him to the semi-finals on "America's Got Talent" and landed him spots on many other television shows.
"Steven had a very impressive run during his time on [America's Got Talent], as well as an impressive repertoire of new and unique magic," said EU programmer Ryan Fouts.
Fouts personally chose to invite Brundage due to his recent and distinct success.
 rundage began his performance by asking for a volunteer right away, the first of many during the engaging evening. His set consisted of various original acts, including solving his Rubik's Cubes one-handed or blindfolded with ease, making cards appear in random places, and guessing what students were thinking.
 rundage often quipped with the audience and volunteers, and he mixed his routine with high-energy and witty humor while making quite the first impression to some students.
 "It was amazing," said Ferris industrial chemistry student Tu Le. "I watch a lot of magician shows and I know a lot of how magicians do their tricks and I couldn't catch on to his."
 "My favorite part was when he threw up the Rubik's Cube unsolved, then he caught it and it was solved," Le added.
 erris pre-dentistry student Lauren Brown, who knows a thing or two about Rubik's Cubes herself, was also impressed by Brundage's complex act, which she said went beyond her expectations.
 "I'm like a rubix cube aficionado, I can actually solve five or six kinds," Brown said. "The fact that he could memorize the algorithms so well, that he could solve the Rubik's Cube with one hand, even blindfolded, and so fast with just one movement, I thought that was amazing."
 rown says that Brundage has now sparked her interest in learning more about solving Rubik's Cubes altogether.
 ollowing his performance, Brundage stuck around to take pictures with students and to socialize.
 or more information on Steven Brundage, visit stevenbrundagemagic.com.