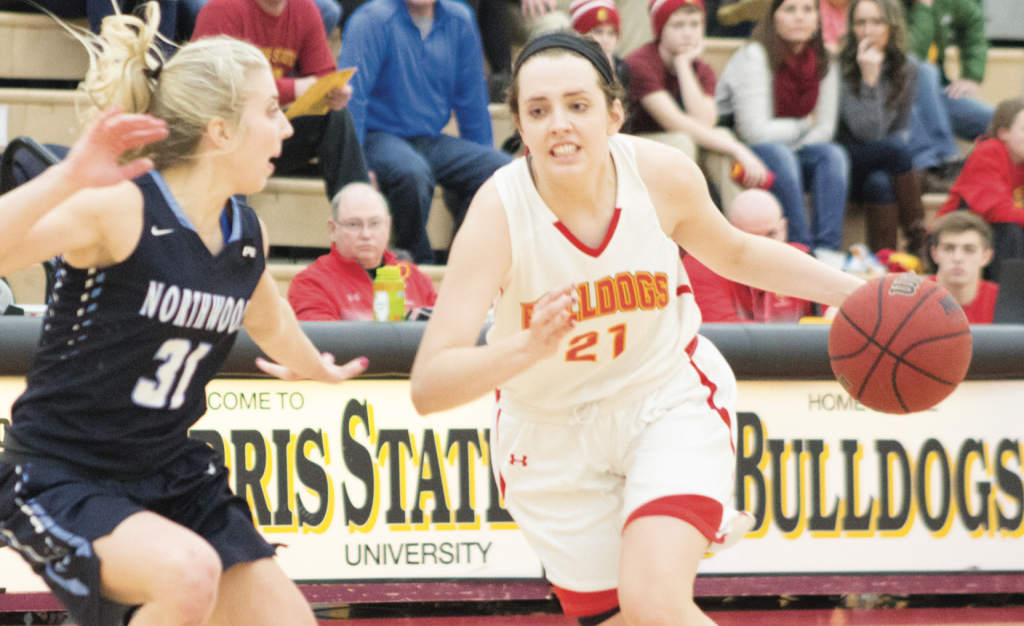 The women's basketball program at Ferris State has been having a rough season so far, but the young team has a bright future ahead with Riley Blair on their roster.
As the second leading scorer on the team, Blair averages 12.1 points per game as a redshirt freshman guard. Second only to junior forward Rachel McInerney's 16.3 points per game, Blair's added scoring is a much needed boost for the Dawgs.
Blair is one of the underclassmen who will be with the program for the next few years. And Blair is a player who understands the importance of patience when it comes to winning games.
"We came into this year knowing it was going to be another huge year for us to help rebuild this program and that is how we are looking at it," Blair said. "Each practice, each game is another opportunity we have to gain more experience and to get more comfortable playing with each other."
Blair spent her high school basketball career on the court at Divine Child High School where she helped the team to a Class B regional title while also making it to the Catholic League championship game.
"Our coaches are constantly reminding us to 'trust the process' which is exactly what we are going through right now," Blair said. "It's not going to happen overnight and we are all on board and ready to put in the work necessary to bring some great success to this program."
Freshman guard Renee Sturm is another one of the young Dawgs in the program, and along with Blair, feels that success will come with trust in the system and time.
"I think the key for us is to stick together when it gets tough and work to do the little things, build consistency and trust together," Sturm said. "We will find our way this season and doing the little things will make us far more competitive and successful in the long run."
The team currently sits with a 3-12 overall record on the season with a 2-7 GLIAC record. Playing 27.2 minutes per game, only second to McInerney again, Blair has become a staple on the young team.
"I think there are both difficulties and advantages to us being so young," Blair said. "There is a certain wisdom for the game in which you can really only gain through experience, which since we are so young, we haven't quite obtained yet."
If the fifteen women that make up the Ferris State women's basketball program, only one of them is a senior and that senior is a transfer student.
"Also, having so many new players, we are still getting used to playing with one another and are still searching for our groove as a team," Blair said. "On the other hand, us young players are fortunate enough to get a lot of reps in our first years that players at other schools may not have the opportunity to take advantage of."
Blair's points bring great promise for this program going forward and said that the team's captains do a phenomenal job of keeping the women's hopes up for the potential to turn the program around.
"We rely on each other heavily, which has really helped us figure out this college basketball thing," Blair said.
The team is back in action 6 p.m. Thursday, Jan. 19, at Saginaw Valley State University. The women then head back to Big Rapids to host Wayne State 1 p.m. Saturday, Jan. 21.