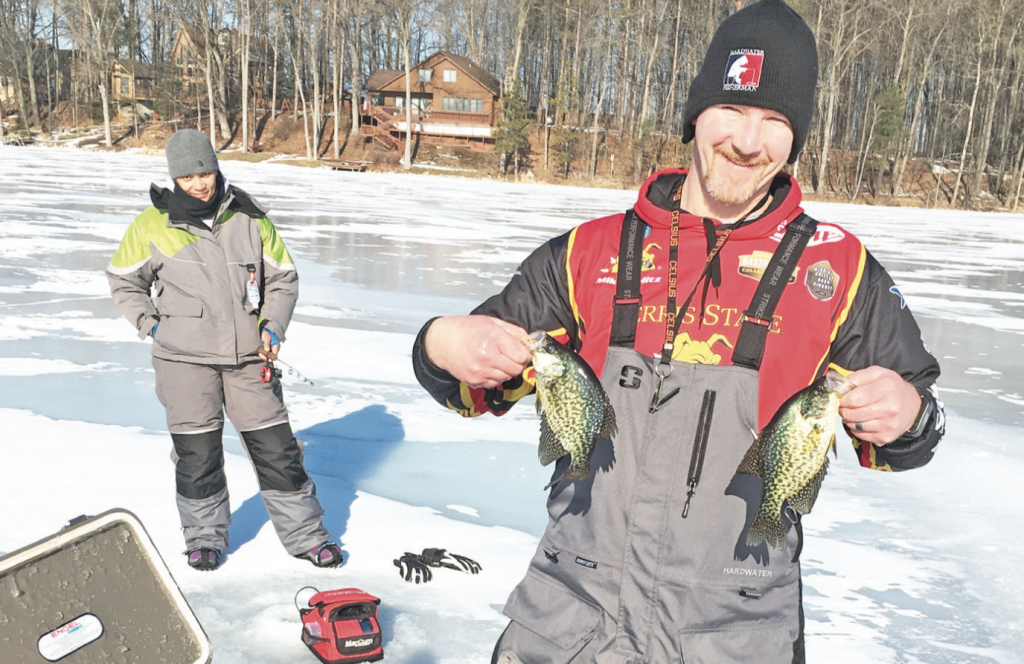 It was still dark when the 12 participants of day one of the First Annual Fundraiser Ice Fishing Tournament Series took to the frozen surface of Clear Lake just east of Big Rapids. Anticipation was high, the temperature was low and the ice was thick, with surface measurements estimated between eight and 16 inches depending on location on the lake.
The Ferris State Fishing Club's first event in a six-date series was held 7 a.m. to 1 p.m. Sunday, Jan. 15.
Coordinating the events is Ferris construction management senior Jacob Otto who serves as vice president of the FSU Fishing Club.
"I would like to see it grow," Otto said. "It was a good start for a first event."
Participants were required to sign a waiver before entering the ice due to the potential danger of the activity, despite the likelihood of actually breaking through or drowning very low due to ideal ice fishing conditions. Still, the faint groans of the ice creaking from expansion can be unnerving for first-time winter anglers.
"First time hearing it, it takes some getting used to," said Ferris plastics engineering sophomore Alex Liebetreu. It was Florida-native Liebetreu's second time on the ice—his first being the night prior.
Liebetreu's team partner, Ferris plastics engineering freshman Garrett Lesh, has been fishing much longer.
"I've been ice fishing since I was… three?" Lesh said. "I'd go with my uncle and grandpa."
The six two-person teams were comprised of anglers of varied levels and backgrounds, including everyone from students and club members
to Big Rapids residents and alumni, from hobby fishermen to competitors in pro-level events.
Ferris alum and Shooter's manager Mike Politz partnered with wife Simone Politz.
"The key is to find where the fish are," Politz said.
Many had scouted the lake throughout the week before, using such equip- ment as underwater cam- eras and fish finders to pick the juiciest spots.
Standard gear included poles and tip-ups (a suspended bait line attached to a "tipping" flag), bait such as minnows and waxworms, safety ropes, augers, buckets and whatever cloth- ing necessary needed to stay warm six hours in single-digit weather. Several teams packed such luxuries as ATVs and shanties to make the experience even more comfortable.
Plenty of bluegill, perch, crappie and other native species were caught. Out-of-sea- son and/or size-regulated species such as pike and bass were released in accordance with both Michigan law and the tournament guidelines.
Baldwin area resident Rocco LeVanseler was not part of the competition, but present on the ice doing some pressure-free sport fishing. LeVanseler was not bothered by the crowd on the lake that day.
"It's nice to see people actually ice fishing these days," LeVanseler said.
There is a $40 team fee per day, as well as a one-time $40 tournament fee per team. Money collected goes toward funding the FSU fishing club, with portions allotted as a prize to the tournament winners.
Weight is used as the deciding factor as each team has a daily bag limit of 16 fish. Though a full tally of accumulated catches will determine an overall tournament winner, it is never too late to sign up.
"Anyone is allowed to participate," Otto said.
The second event in the series will be held 7 a.m. Sunday, Jan. 22, at Mecosta Lake.