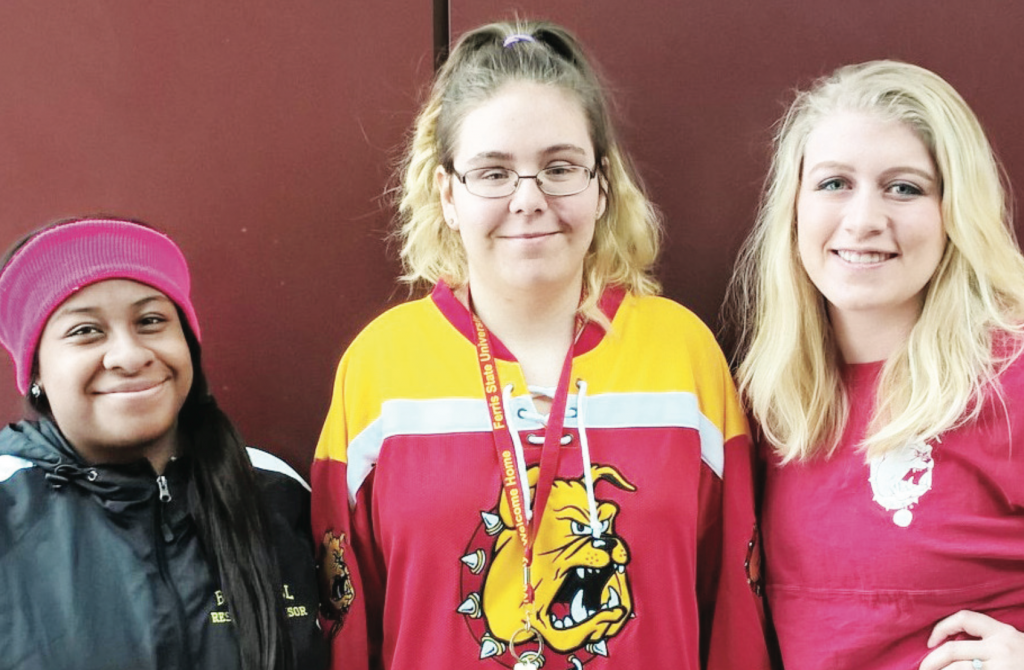 Ferris students Talesha Wright and Lashai Watson are among several students who take time out of their busy schedules to devote to younger students on campus.
National Mentoring Month was named an annual, month-long celebration in January of 2002 as a campaign to promote youth mentoring in the U.S.
The Socio-Cultural Holistic Learning and Retention (SCHOLAR) Program at Ferris created a Peer Mentor Program in the year of 2000 to help first-year students with the adjustment that comes with starting college.
"I chose to be a mentor because I know how hard it is for some students to transition from high school to college," said Ferris music industry management senior Talesha Wright. "It is important to have somewhere a student can go or someone they can talk to when they are experiencing this brand-new environment."
The Peer Mentor Program's purpose statement reads, "The purpose of the Peer Mentor Program is to serve as an integral part of the University to promote the improvement of academic success, persistence and successful graduation of students participating in the program."
The program hosts group outings each month including horseback riding, luncheons, special trips and more. Mentors and their Mentees get together on their own time to do activities such as study groups or just a casual meal.
"My freshman year I came here and didn't know anyone and stayed in a suite by myself," said Ferris respiratory care junior and peer mentor Lashai Watson. "When I was introduced to the program, I wanted to make sure that didn't happen to anyone else."
Watson added that seeing how helpful they are to the mentees and watching them grow is the most rewarding part of mentoring in the program.
Ferris public relations junior and peer mentor Jada Dill has two mentees; Ferris general studies freshman Jae'lynn Williams and Ferris business administration freshman Taneesha Pettway. Dill says getting to know new people and having someone to talk to was most rewarding as a mentee.
"It's a very positive organization," Dill said. "It's a good organization to broaden horizons and connect with others."
"A mentor can be the difference between deciding to stay and dropping out, switching your major or sticking to what you are already doing," Wright said. "They are a great resource that has already done exactly what [mentees] are struggling or simply dealing with—the transition."
"As a mentor, you can help them when they may not have anyone else to turn to, and you can be a great first resource for them," Wright said. "People appreciate having someone they know they can go to, and it is a wonderful feeling to know that you are helping someone become the person they have always dreamed themselves being."
Students interested in becoming or finding a mentor can contact the Director of the SCHOLAR program Karen GreenBay at scholarmentoring@nullferris.edu or visit ASC 1021.
For more information on the SCHOLAR program, visit www.ferris.edu/HTMLS/colleges/university/peer/Program-Information.htm.