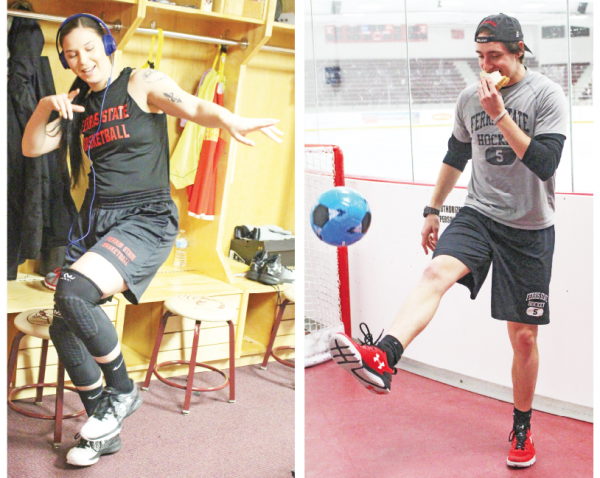 Before every game in his pro years, Michael Jordan would put on his North Carolina Tar Heels shorts under his Chicago Bulls shorts. Former defensive tackle for the Jacksonville Jaguars John Henderson used to ask one of the team's trainers to slap him across the face before he'd take to the field. Odd rituals such as these are pretty common among high-level athletes, but what do our Bulldog athletes do to prepare themselves for a game?
Heading to the hardwood first, it seems that many of our Bulldog ballers can't step on the court without their headphones. Senior forward Joslyn Nicholson of the women's basketball team can never resist the urge to dance the pregame jitters away.
"Before a game I normally throw on my Beats or my headphones and tune out the world by listening to music that really pumps me up," Nicholson said. "Most times, I'm so into the music that I'll be dancing to myself while everyone else in the locker room is getting dressed for the game."
Senior wing Quentin Ruff also has to listen to music before a game, but he gets a little more specific with his music choice. He has six different songs that he shuffles through before a game. The song that gets him the most hyped up is "300 Violin Orchestra" by Jorge Quintero.
Making the switch over to the ice, a couple of our hockey players have some interesting rituals. Senior forward Gerald Mayhew can't get to the ice before a bit of sleep, making sure he's well rested.
"I have to nap for an hour before the game," Mayhew said. "And if we win, I wear the same suit until we lose."
Mayhew's ritual of a nap an hour before the game and wearing the same suit may seem like quite the routine, but wait until you hear what junior forward Tyler Dorantes has to do before a game. Hopefully, you can keep up with it all.
"On game days, I like to come back from morning skate. Fridays, I'll eat a peanut butter and honey sandwich when I get home. Saturdays, I'll have a bagel from Panera. Then I'll clean up the apartment a little bit," Dorantes said. "I like to shower and pick out my suit combo, then sit at the kitchen counter and have a cup of coffee before I head to the rink."
That's only before Dorantes gets to the rink. His ritualistic tendencies don't stop there.
"When I get to the rink, I foam roll, tape my stick and then kick the soccer ball around before our meeting," Dorantes said. "After games, I like to drink a lot of water and Scratch, which is an electrolyte mix and I also foam roll and static stretch."
Whether it's Michael Jordan, Tyler Dorantes or Joslyn Nicholson, sometimes repeating something that works for you just works.
The only thing ritualistically different between these Ferris State athletes and the pros is that the Bulldogs have to go to class on Monday, one ritual that none of them can avoid.