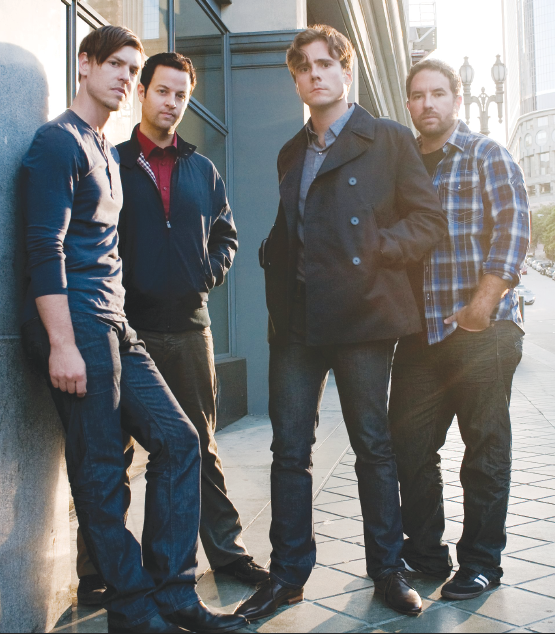 When someone asks, "Who are the best rock bands of our generation that are still active?" Would you consider Jimmy Eat World to be one? I would.
Popular answers to the question above oftentimes are Radiohead, Arcade Fire, Arctic Monkeys and The Strokes—and respectively so.
Of course the list goes on and on and is completely subjective, but every group mentioned above has achieved worldwide fame and the capability of selling out arenas. But not Jimmy Eat World. What they have done, though, is consistently make great and oftentimes boundary-pushing rock music for 24 years.
To clarify, Jimmy Eat World never headlined a major festival, broke numbers with record sales and has only one major hit song, "The Middle."
"The Middle" was the second single for Jimmy's breakout album, Bleed American, which came out July 24, 2001—the group's fourth full-length album at the time. Of the popular groups listed above, only Radiohead had released a single album up to that point. The album, and especially the one major hit, are approaching their 16th birthdays. For many of us, "The Middle" is a staple track of our childhood.
Why bring this question up now? What's the significance? Well, as some fans may know, after Bleed American, Jimmy Eat World released one more great album in 2004, Futures, before releasing a decade's worth of less memorable albums and began to lose their edge. That all ended Oct. 21, 2016, when the group's ninth album dropped, Integrity Blues, and totally put the spotlight back on a once pioneering emotive rock band.
Integrity Blues has easily become one of my favorite albums of 2016. To sum it up briefly, I'll quote Pitchfork writer Ian Cohen in his review of the album:
"The expansive, emotionally weathered Integrity Blues is perhaps Jimmy Eat World's best record since Bleed American, and even serves as its unlikely spiritual sequel."
The idea of Jimmy Eat World being a top rock band of our generation came to me after I finally saw the band for the first time of my life this past Christmas break in New York City.
The show was flat out mesmerizing. I watched a band I've known for my entire memorable life go out on the stage and own the crowd with hard-hitting classics and well-crafted new tracks. The campaign was aided by the intimate capacity of 1,500 people—small for a band with their stature—which meant almost everybody in the crowd knew every word to most songs. But it doesn't matter. Those guys are straight rock stars. I didn't just have fun singing tunes I've listened to 400 times, I was mesmerized by the performance they put on. The constant energy from lead singer Jim Adkins was inspiring, and the metal/punk noise session during the new track "Pass The Baby" was not what you would expect from a "2000s mainstream emo, alt-rock group" as they have been dubbed. It was the work of a true, tried and seasoned rock band.
Recently in televised media, Jimmy Eat World performed new single "Get Right" on the Conan Show Wednesday, Jan. 11, as well as at the iHeartRadio Theater for iHeartRadio LIVE in Los Angeles two days later. Both performances were great and can be viewed easily online.
Speaking briefly on the history of the band, Jim Adkins formed the band in 1993 at 18 years old. The group never broke up, only switched drummers once in 1995 (and never after) and also never created any form of real controversy. They took understandable creative and touring breaks, but for 24 straight years and counting, the group has been nothing short of active.
Now the real question to answer: why should Ferris State students care about this?
When people ask me what rocks bands are doing it right now, I oftentimes may name bands people have never heard of, because the fastest growing and boundary-pushing artists right now are not rock groups. They tend to be rappers or pop stars, such as Kendrick Lamar and Beyoncé. So now when somebody asks me what rock band is doing it right now, I can confidently say Jimmy Eat World, who most college students should know.
I mean I've heard "The Middle" being played in the UC, The Rock, Starbucks, Oakwood, Fraternity houses, Shooters and really anywhere around campus, because it is a "classic" and familiar song, just like All The Small Things by Blink 182. As much as I worship Blink, their 2016 release 'California' was arguably their worst album yet. It shyed far away from their punk roots and used a lot of auto-tuned vocals. "Integrity Blues" was a step forward, while also revisiting musical themes from Jimmy Eat World's beginnings, as vocalist Jim Adkins delivers honest and introspective adult lyrics. After releasing a couple albums that did not achieve the success or push the limits that Bleed American did, Jimmy Eat World took a year away from music, regrouped and produced their best album in 15 years, and display a live performance that literally has me publishing an article about it over a month later. I believe any fan of "The Middle" or rock music in general will find some form of enjoyment or solace in this new album.
I recommend to anyone looking for new rock music to check out "Integrity Blues," but before that, give Bleed American a full listen and try to tell me it isn't a fantastic and pioneering emo rock album.