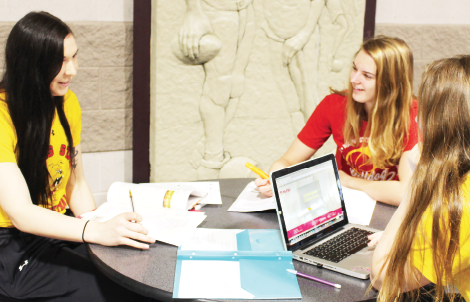 Adjusting back to academics to start the spring semester is a challenge for most students at Ferris State. Even more difficult is attempting to balance school work with athletics.
The Ferris State women's basketball team has struggled on the court this year, posting a 4-13 overall record to this point. However, this has not discouraged the players from doing their best to keep up academically.
"Finding time to study is sometimes tough," said junior forward Rachel McInerney. "When we have long road trips, we will miss three days out of the week. The long travel gives us spare time to work on whatever we need to finish."
The Bulldogs are amid a nearly month-long schedule of road games with upcoming trips to Michigan Tech., Northern Michigan and Grand Valley. Two out of three of those games will require more than five hours of travel just to arrive at the destination.
Spending that much time on the road forces the players to find alternate routes to complete assignments. One popular route for the women's basketball team is taking advantage of the long hours spent on the bus.
"Personally, I struggle to do homework on the bus," said freshman guard Renee Sturm. "During study tables and on trips, everyone helps one another out. Sometimes it feels impossible to balance basketball and school, but with the academic support we have in place, it's more manageable."
As tough as it may be, student athletes aren't left to fend for themselves completely. Most Ferris sports programs organize study tables for athletes to meet up and receive any extra help they may need on their assignments.
The women's basketball team will close the books and hit the road as they travel to Marquette to take on Northern Michigan 6 p.m. Thursday, Jan. 26.