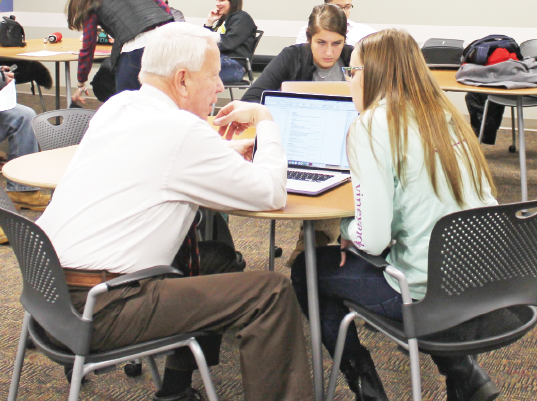 Writing a resume is one of the most difficult responsibilities that students have to go through. However, AMA is here to help.
The Ferris American Marketing Association hosted a Resume Workshop Thursday, Jan. 19, with five resume perfecting professors to provide assistance to an overflowing room of students.
Ferris advertising junior and E-board Vice President of Professional Development Katelyn Williams planned this event, along with 19 other events, up until winter break.
"So basically, it's just any students, they don't have to be AMA members, can come in and get their resumes reviewed by professors," Williams said. "If they want, they can go to multiple professors and it's just to help them for when they're applying for internships and our networking events and things like that."
Resumes for internship applications were the main focus for many of the attendees including Ferris business administration junior Jeremy Graham.
"[I'm here] to have my resume looked at so I can hopefully obtain an internship this summer," Graham said.
Many of the students in attendance had already taken a class at Ferris that taught the basics for writing a resume, but still wanted to attend for the extra critiquing.
"I took advanced business writing last semester, so we did a lot with our resume and my mom's also in human resources so she always helps me too," Ferris advertising senior Samantha Neering said. "I'm applying for internships right now, or looking to apply to them, so I just want to make sure that my resume is as good as it can be."
The event had such a massive turnout that students were waiting in line to get their resumes reviewed by the experts.
"Put your best foot forward," Ferris Professor of marketing Paul Jackson said. "Communicate the things that you feel are crucial to your getting the opportunity for an interview."
For those who missed the AMA resume workshop, upcoming AMA events can be found at amaferris.org.