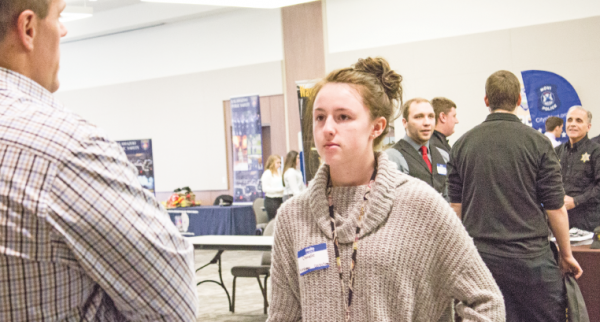 The printers were flowing with resumes and cover letters as Lambda Alpha Epsilon (LAE) held it's annual career fair in an effort to connect criminal justice students with potential employers ranging from local to federal law enforcement agencies.
The criminal justice career fair has been hosted by LAE for five years and it's members boast huge success. Jessica Wilhelm, a senior in the law enforcement academy, is the president of the organization.
"Career fairs are important because it provides a bridge of interaction between a candidate and a future employer," Wilhelm said. "Being able to have a personal interaction helps get your name out there as well as the opportunity to hear what departments have to offer."
Nearly 100 suit-clad students participated in the event and there were no shortage of opportunities.
"There are 31 departments all ranging from local law enforcement, corrections, federal, etcetera that offer both employment as well as internship opportunities," Wilhelm said.
Jack Washkevich, a sophomore in the Ferris criminal justice program, was the committee head in LAE for planning and executing the career fair. Washkevich and his team have been planning the event since September 2016.
"It's important to get a grasp on things you can expect outside of college. It's good to be able to talk to police officers and understand what they do day-to-day," Washkevich said.
Washkevich outlined that the demand for police officers is high and in the current political climate, there is an increased need for new officers.
The career fair was held last Wednesday, Jan. 18, from 9 a.m. to 3 p.m. in the University Center. Members of LAE stressed that they will continue to host the event in years to come.