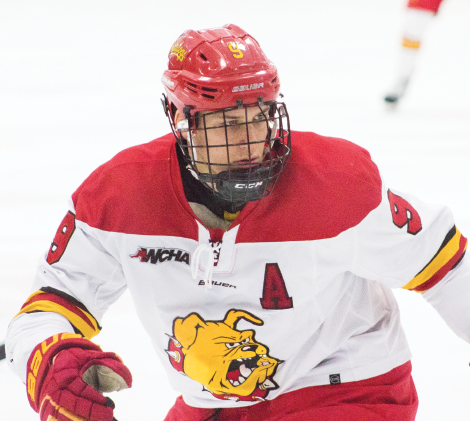 Bah dah bah bah bah, Bulldog fans are lovin' it. "It," being Ferris senior forward Chad McDonald's play last weekend.
McDonald helped get the offense firing in the Bulldogs' 5-2 win over Bemidji State Friday, Jan. 20, with one goal, one assist and four shots. The 5-foot-10, 180-pound Battle Creek native followed up the performance by scoring Ferris' lone goal in their 5-1 loss to the Beavers on the following day.
McDonald has suited up in 135 games for the Bulldogs tallying 35 goals and 42 assists during that span.
He's also helped lead the Dawgs to the WCHA Final Five every year since he's been on campus, and the NCAA Regional Final twice since 2013.
Ferris will host Bowling Green State 8:37 p.m. Friday, Jan. 27, in Ewigleben Arena.