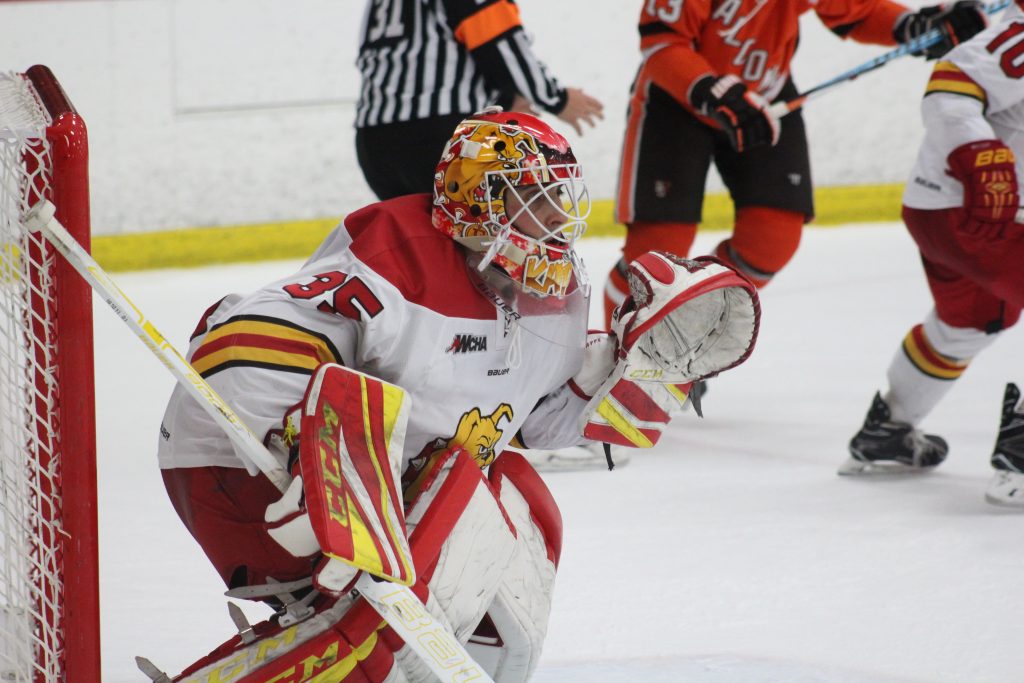 Tonight's game told a tale of heartache that Ferris fans have known all too well this season, only this time a national television audience got to experience it too.
Ferris State fell to the Bowling Green State Falcons 3-2 within the first 34 seconds of overtime. It was the sixth time the Dawgs had gone to overtime this season, and the sixth time they were unable to come away with a win in overtime.
The Bulldogs got the scoring started at the 7:02 mark in the first period off the stick of junior right wing Tyler Andrew. Freshman defenseman Joe Rutkowski and junior center Zack Szajner were both credited with assists.
Ferris found a way to stifle the Falcons' high-powered offense through the first period, as Bowling Green State entered the night with the most goals scored in the WCHA but was held without a goal through the first twenty minutes.
The teams exchanged goals in the second period, with senior right wing Gerald Mayhew scoring his 14th goal of the season for Ferris and BGSU junior center Tyler Spezia scoring for the Falcons to leave the score at 2-1 heading into the third period.
Ferris redshirt freshman center Craig Pefley was ejected from the game and issued a five-minute major penalty, which would end up costing the Bulldogs the lead. The Falcons scored on the man advantage to tie 2-2 and pushed the game to overtime.
Ferris freshman goaltender Justin Kapelmaster recorded three saves in overtime before surrendering the winning goal to BGSU junior defenseman Mark Friedman.
Kapelmaster finished with 32 saves on the night while the Bulldogs' offense tallied 23 shots on goal.
The Bulldogs are 8-16-4 overall on the season and just 3-9-2 when playing at home, which is good for seventh place in the WCHA standings.
Ferris will host Bowling Green State again at 7:07 p.m. Saturday, Jan. 28, in Ewigleben Arena.