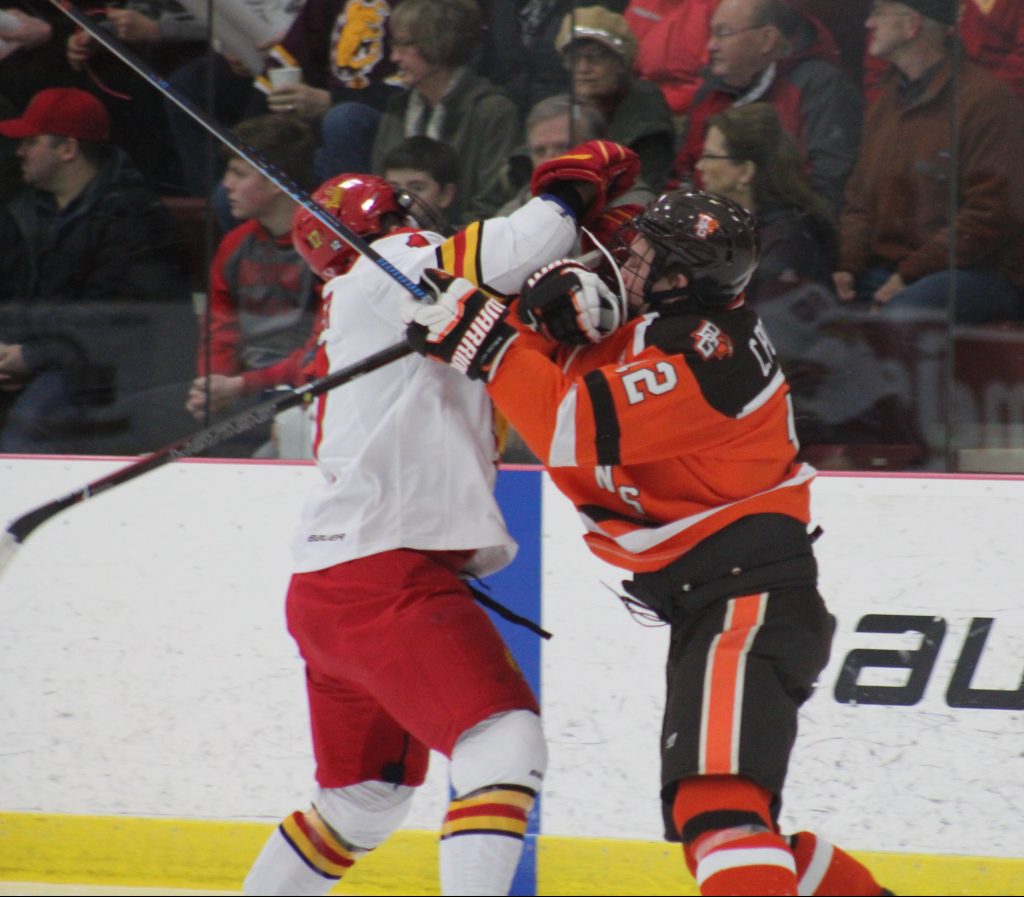 The Dawgs shot the Falcons down with a 4-0 second period to split the weekend series against Bowling Green.
Ferris lost 3-2 on Friday, Jan. 27, after a quick overtime time Falcon goal. The Dawgs did not let Saturday's game get that close winning 5-0.
The Bulldogs and Falcons battled back and forth in the first period with Ferris outshooting Bowling Green 17-4. Sophomore forward Corey Mackin was active early with three shots on goal in the scoreless period.
Ferris turned it on early in the second period when three freshmen combined to score a breakaway goal. Forward Jason Tackett scored off assists from forward Taylor Fernandez and defender Cameron Clarke.
The Bulldogs displayed immense pressure, keeping the puck on Falcon ice with junior forward Mitch Maloney scoring five minutes later off an assist from sophomore forward Jacob Hetz.
Senior forwards Chad McDonald and Gerald Mayhew capped off the second period with a pair of goals in the final two minutes.
The final goal of the game came from senior forward Jared VanWormer off assists from Mayhew and Mackin with 7:30 left in the third.
The Bulldog defense played well to protect the shutout. Freshman goalie Justin Kapelmaster cleaned everything up that his defense let leak through. He had 19 saves on the night.
Ferris moved up to No. 6 in the WCHA standings with this win, going two points ahead of Alaska. The Dawgs will take on No. 2 Michigan Tech on Friday and Saturday, Feb. 10 and 11, in Houghton, Mich.