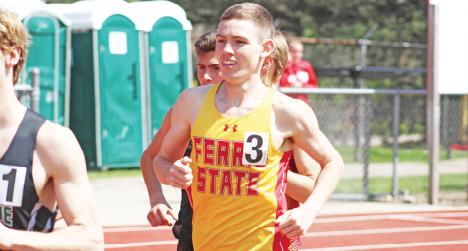 For a normal Ferris State student, running around campus at 6 a.m. is crazy talk, but for Logan Hammer and the rest of the Ferris State track and field runners, it's a norm.
Senior Logan Hammer runs everything from the 800 to 3,000 meter for an event with his main event being the mile. Preparing for events such as these is no simple task, and staying positive while practicing out in the cold can be tough. But Hammer says there are a few things that keep his spirits high.
"My team most importantly, they are with me through thick and thin and we keep each other standing through hard times," Hammer said. "Second, my coach. I don't ever want to let him down. He puts too much time into me for me to disappoint him. Third, I want to win so bad that no matter how bad it gets or how bad I hurt, I am going to do everything in my power to be ready when I get to the start line."
Hammer was on the 2016 GLIAC Men's Outdoor Track and Field All-Academic Team as one of the Dawgs' best performers in the classroom as well as on the track.
Hammer begins his Monday at 6 a.m. with a healthy breakfast before heading to the weight room. After about an hour in the weight room, he heads to his 8 a.m. class, starting his next workout immediately after class at 9 a.m. Hammer meets his teammates at their run location for the day, running a series of miles before his 10:30 a.m. class.
All of that is done before many students at Ferris are crawling out of bed, making Hammer and his teammates schedules that much more impressive. When it comes to teammates and their effect on each other on a track and field team, some may think team chemistry doesn't matter but Hammer would argue that.
"It's a common misconception, we may be competing separately without passing balls or without communicating during a race, in fact, we may not even be in a race with anyone from our team, but it is very important to be unified as a team," Hammer said. "I don't think I need to explain how mentally and physically exhausting it is to run every single day of the year for an hour or more on top of lifting and many other things we incorporate."
With a little under a month of indoor meets left before the Dawgs open their outdoor season, Ferris track and field has already been training outside in the harsh weather while other teams have been training inside their heated facilities.
"It is crucial to have a team behind you, supporting you every step of the way," Hammer said. "We are just like any other sports team, we push each other and do everything we can to make each person the best they can be. I can tell you from experience, having your team cheering for you during any race can make a huge difference."
Hammer and the rest of the track and field program have their next meet Friday, Feb. 10, at the Grand Valley State Big Meet in Allendale.