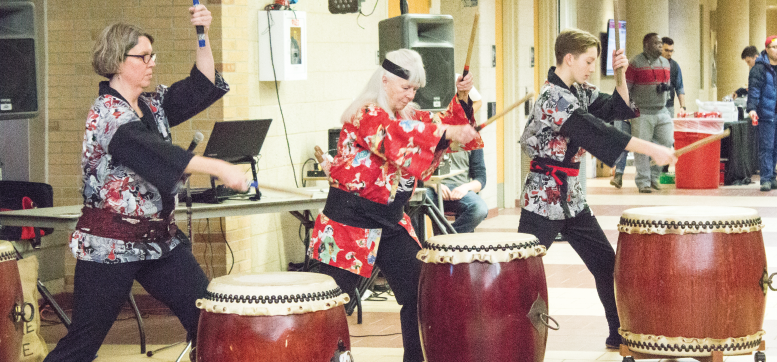 The Lunar New Year is one of the most important celebrations on the Chinese calendar and this year marks the Year of the Rooster.
The Asian Student Organization (ASO) held the Lunar New Year/Chinese New Year celebration Friday, Jan. 27, at the IRC with a DJ, a drum performance by Kalamazoo-based Michigan Hiryu Daiko and an eclectic array of food.
The Lunar New Year is traditionally celebrated by many Asian cultures late January to early February. As the lunar and standard solar calendars rarely align, the Lunar New  Year often shifts around.  This year's celebration is held Saturday, Jan. 28, to Thursday, Feb. 2, according to Chinese tradition.
Each year of the Chinese Zodiac is represented by an animal, and 2017 is the Year of the Rooster, personifying fidelity, trustworthiness, punctuality and a strong sense of time keeping at work.
Kalamazoo's Lorry Norrix high school freshman Wyatt Harris was one of the talented drummers that performed at this year's event.  Harris enjoys learning about the culture of Japan and the art of taiko—the drums.
"I love the energy of when I am drumming," Harris said. "It's some next level stuff to me."
With the help of the Office of Multicultural Student Services (OMSS) and the Office of International Education (OIE), ASO were able to bring a bit of Asian culture to Ferris State.
Ferris pre-medicine junior Cindy Tran is president of ASO and the overseer of the event. Tran said the task was "fun but stressful."
"I hope everyone has fun and experiences a bit of Asia, from food to music," Tran said.
The Lunar New Year celebration is celebrated similarly to our New Year here in the United States. Families and friends celebrate with food, music and drinks.
Many different Asian cultures celebrate the Lunar New Year with happy hopes of having a better year than the one before.
The Chinese calendar operates on a 12-year cycle. Next year will be represented as the Year of the Dog.