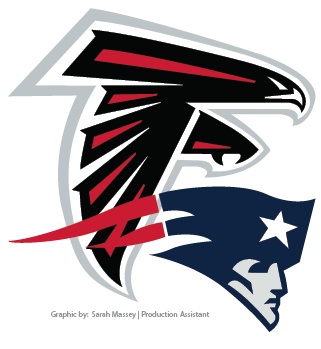 The New England Patriots are the overwhelming favorites to win Super Bowl LI according to a poll of Ferris students.
23 of the 26 students polled are rolling with America's most hated team to beat the Atlanta Falcons Sunday, Feb. 5.
Ferris finance junior Mike Howard said, "You can't go against Bill Belichick and Tom Brady."
This game will not be as lopsided as the poll results. I believe this will be a tightly contested barn burner with the game on the line late. Will it be Matty Ice or Tom Brady that leads their team to victory?
In route to their second Super Bowl appearance in franchise history, the Atlanta Falcons had a historic season posting the eighth most yards of all time. Falcon quarterback Matt Ryan finally lived up to his nickname "Matty Ice" with the best numbers of his career. He led the league in quarterback efficiency ratings with 117.1. He was also second in passing touchdowns and yards with 38 touchdowns and 4,944 yards.
Ryan has a plethora of weapons at his disposal with top-three receiver Julio Jones and a two-headed monster in the back field with Tevin Coleman and Pro-Bowl player Devontae Freeman. This team is built to score and score often. But it will be tested against the stingiest defense in the league allowing an NFL best 15.6 points per game.
During the Brady-Belichick era, the Patriots have been the model of consistency and excellence in professional sports. They've been 12-4 or better the last seven years and been to six Super Bowls. The Pats didn't skip a beat this year going 14-2 even after Brady missed the first four games due to the Deflategate ruling.
Brady, 39, looked as young as ever this year while completing passes to receivers most people have never heard of. He has made do with make-shift receiving corps the last couple of years and this season due to injuries. But he has all his weapons locked and loaded for Sunday including first team All-Pro tight end Rob Gronkowski, Pro-bowl tight end Martellus Bennett and Pro-bowl receiver Julian Edelman.
The X-factor in this game will be the Pats running back Legarrette Blount. He has been their workhorse most of the season, scoring a league high of 18 rushing touchdowns. If New England gets the running game going with Blount and control the clock, the Falcons defense won't be able to stop the passing game manned by arguably the greatest quarterback of all time in Tom Brady.
If the Atlanta defense holds stout and forces the Patriots to pass, it could spell trouble for the Brady bunch as the Falcons will take off on a relentless pass rush. Falcons linebacker Vic Beasley led the league in sacks this year and is a candidate for defensive player of the year. He, along with veteran defensive end Dwight Freeney, could make Brady uneasy in the pocket and force errors.
PREDICTION
After weighing different ways this game can go, I'm going with the New England Patriots 31-28. The Falcons score late to tie, but Brady drives his team down to kick a field goal as time expires.