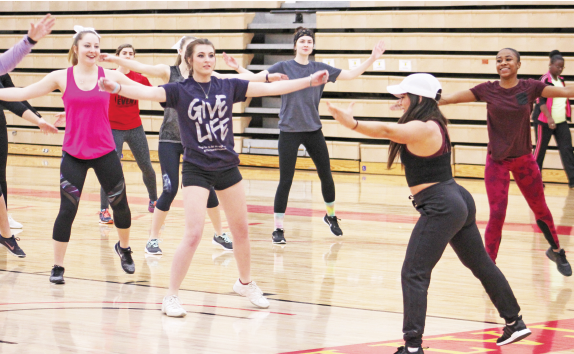 The Ferris cheer team hosted a zumba and yoga class with traveling instructor Shannon Maconi Saturday Jan. 28, in the Wink arena, and it was more than a typical workout.
After the workout, the cheer team had a different view about yoga.
"I hope that people take away what she talked about during yoga," said Ferris criminal justice senior and vice president Briana Pierson. "[Maconi] said some important things that people forget about. Like loving each other and love and kindness are important in life, and there isn't enough of it in the world, we need to see the light in other people."
According to Ferris criminal justice senior and president Melissa Henderson, Marconi claims that a lot of stress comes from the negative views we have of ourselves, not even reflecting on other people, and it is important that people love every part of their bodies.
"We are trying to stay active, and being students on campus, you should try to find a fun way to stay active," said Ferris cheer coach Danielle Lee.
"It was challenging because she says not to judge, but then you watch her do the yoga poses and you can't do them nearly as well as she can," Henderson said. "It's weird to think of how flexible and strong you think your body is and then you do yoga and you realize just how hard yoga really is."
According to Lee, there were 19 students that attended the event with the cheer team and they are brainstorming ideas for another session at Ferris.
"She is already planning on coming back to Ferris. We just have to plan it all out, but we are thinking about maybe doing it outside when it's sunny," Lee said.
Henderson and Pierson hope that in the future they get a bigger turnout. They both said they had more fun than they expected to have.
Ferris' Racquet and Fitness Center offers a weekly Zumba class from 6-7 p.m. every Monday. Students can pay $2.50 to drop in on a class or $15 for the full session of classes.