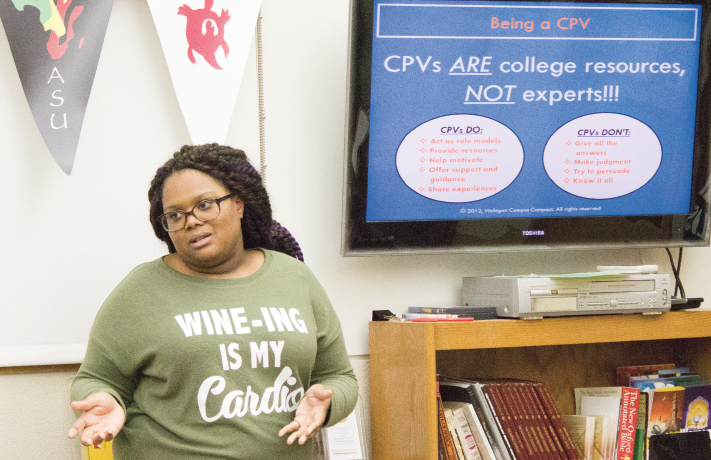 Ferris business data analytics junior Chrissy Melton-Davis is leading the Ferris team of volunteers for the Gaining Early Awareness and Readiness for Undergraduate Programs (GEAR UP) organization. It is a program for Ferris students to be the voice for high school students and encourage them to attend college.
To be in the program, Ferris students must go through College Positive Volunteer training (CPV), which is offered twice a month and RSOs may request Melton-Davis to attend one of their meetings for training.
According to Melton-Davis, it sounded like something she wanted to do when she read the job description.
"It was similar to what I was doing at home, so I wanted to continue to give back," Melton-Davis said. "My mom was a first generation college student. I understand that she did not have a person to push her to go to college, so I want to be someone else's push to go to college."
Ferris currently has nearly 150 CPVs.
CPVs volunteer to help out with events that GEAR UP hosts for students, chaperone college visits and facilitate summer camps.
GEAR UP's motto is: "Where are you going to college, and how can I help you get there?" and their mindset is "college is attainable for everyone."
Ferris healthcare system administration junior and CPV student leader Imani Meeks believes that this program helps with Ferris admissions.
"It may not be the biggest help for admissions but it does help," Meeks said. "Volunteers do not persuade them to attend Ferris, but they do feel a connection because they already know Ferris students."
According to Melton-Davis, the goal is to push secondary education. Whether it's at Ferris or a different college, helping one helps all, and education is important for everyone.
"As a college student, we don't pay $22,000 to not give back. Giving back helps CPVs more than it actually affects the students. It makes us feel good, it's something we want to do, it's not forced. CPVs will benefit from it by seeing people from all different walks from life," Melton-Davis said.
According to Melton-Davis, every CPV will come into contact with a student with whom they can really impact and make a difference.
"We are always welcoming CPVs from all majors and all walks of life. We love our CPVs and we love our students," Melton-Davis said.