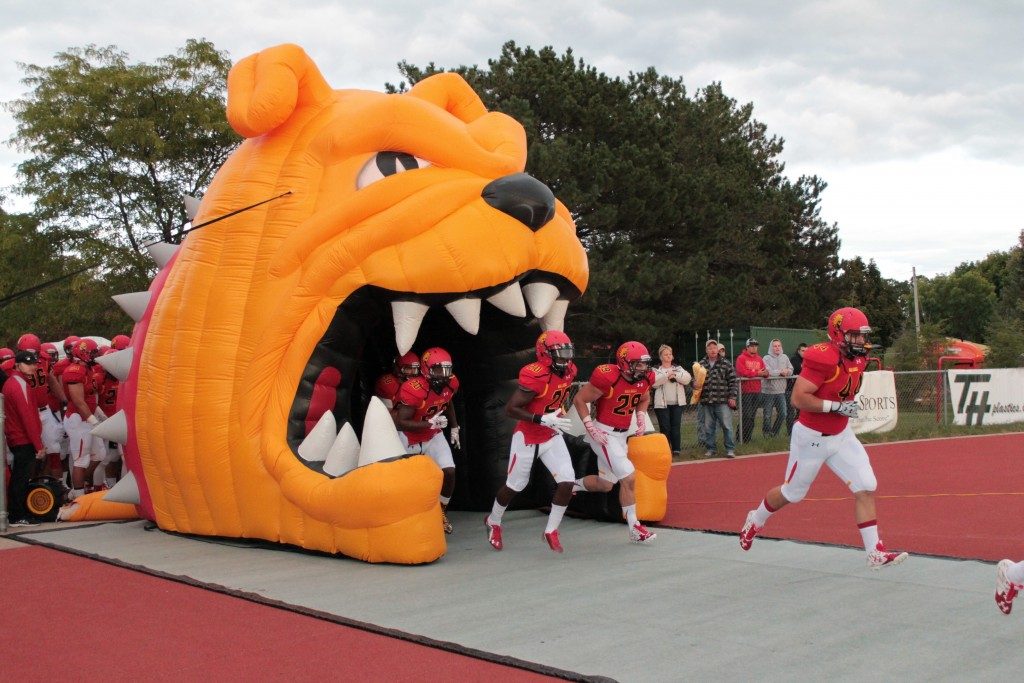 Ferris football Head Coach Tony Annese unveiled the 2017 recruiting class dominated by homegrown Michigan talent.
The Bulldogs stayed close to home with this year's recruiting class with 25 of the 29 players hailing from the Great Lake State.
"We always make Michigan a top priority," Annese said.
Besides state ties, some incoming freshmen have blood ties in the Bulldog family. Incoming offensive lineman Adam Sieler is brother to All-American defensive end Zach Sieler. Adam Sieler was a Detroit Free Press All-State selection with the size of his brother at 6'5 335 pounds.
Incoming freshman Nic Huntey played quarterback and linebacker at Morley-Standwood High School earning All-Area at both positions. He is the brother of former Ferris volleyball and women's basketball standout Alexis Huntey. Nic Huntey was a force in high school baseball and basketball as well earning All-State in the latter.
Sixteen players were added to the defense and 13 to the offense. On the defense, the recruiting class included six linemen, six defensive backs and three linebackers. Incoming linebacker Issa Kahlil was a player Annese emphasized.
Annese said, "Write his name down. Issa Kahlil. Look him up; put on his tape and you'll go, 'Wow!'"
Kahlil led his team in interceptions and tackles his senior year earning Detroit News All-Metro West on his way to earning a top-20 ranking on Max Preps. Fast and instinctive, this Dearborn product will add to an already formidable defensive front seven that led the GLIAC in stopping the run.
Ferris added four quarterbacks, receivers and linemen while adding one running back to the offense. The lone back is Jeremy Burrell from Benton Harbor, Michigan, who helped revive a starving southwest Michigan program from a decades long playoff drought. He helped them earn back-to-back playoff appearances while garnering 2,260 yards rushing in 2016.
The Bulldogs reached the NCAA Div. 2 National Semifinals in 2016 and are looking to go even further as they retain many key players. All-Americans Sieler and junior defensive back Tavierre Thomas return for the defense while quarterback Reggie Bell, running back Jahaan Brown and several receivers return for the offense.
Annese said that all of these players coming in will have a chance to compete with the starters of last year as well as the vacancies created by graduation. He hinted that the quarterback battle could involve three or four players in the spring.
The first time to catch next year's edition of the Bulldogs in action will be the annual Crimson and Gold spring game to be held in April.
Check out the full 2017 class below!
________________________________________
Collin Alvesteffer
Cedar Springs – DB
5'11, 200 pounds
Mohamad Amen
Dearborn Fordson – DL
6'4, 235 pounds
Sy Barnett
Williamston – WR
6'1, 195 pounds
Jovan Bayless
Mater Dei (Calif.ornia) – DB
6'0, 190 pounds
Amere Blake
Flint Hamady – DB
6'0, 175 pounds
Amarr Blake
Flint Hamady – DB
6'0, 176 pounds
Jeremy Burrell
Benton Harbor – RB
5'10, 185 pounds
Cooper Clapp
Corunna – OL
6'2, 275 pounds
Evan Cummins
Livonia Churchill – QB
6'3, 210 pounds
Ja'Len Edwards
Pima CC/Avon – WR
5'10, 183 pounds
Travis Frazier
Chelsea – DL
6'6, 260 pounds
Luke Gorniak
Sterling Heights Stevenson – DL
6'3, 265 pounds
Ian Hall
Grandville – DL
6'1, 240 pounds
Nic Huntey
Morley Stanwood – LB
6'2, 190 pounds
Jordan Jones
Dearborn Divine Child – DL
6'1, 270 pounds
Issa Kahlil
Dearborn – LB
6'1, 200 pounds
Corey King
Plant City, Florida – QB
6'2, 190 pounds
Marcus Matiere-Bey
Flint Southwestern – LB
5'11, 225 pounds
Sam Neville
West Catholic – WR
6'3, 201 pounds
Zein Obeid
Dearborn Fordson – OL
6'6, 300 pounds
Mikey Phillips
Dearborn – QB
6'0, 195 pounds
Carson Rosa
Traverse City West – QB
6'5, 235 pounds
JD Ross
DeWitt – DB
6'0, 180 pounds
Ben Sherwin
Traverse City Central – OL
6'5, 260 pounds
Adam Sieler
Pinckney – OL
6'5, 335 pounds
Wes Smith
Pinckney – DL
6'3, 220 pounds
Jamil Thomas
Tampa Plant – DB
5'9, 166 pounds
Kelvyn Valdez
Godwin Heights – WR
6'3, 185 pounds
Price Watkins
Loyola – DB
5'10, 175 pounds