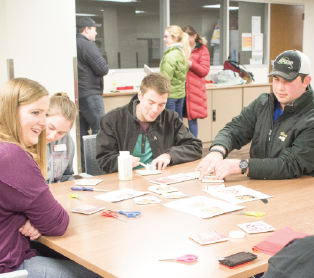 Crafting buffs found a little piece of heaven last Saturday night at the Center for Leadership, Activities and Career Services (CLACS) hosted DIY crafting workshop.
Among the crafting opportunities were Ferris themed coasters, picture frames and cork boards. Ciara Kibby, a Ferris medical lab science freshman enjoyed almost all of the provided activities.
"It's very fun, I love making crafts. I will come to every craft event CLACS has," Kibby said.
Kibby was not the only crafting enthusiast at the workshop. Emily Laforce, a Ferris pre-optometry freshman, came to the event after learning about it in an email.
"I loved it. I loved how there was different stations for everything. I made some coasters, a poster and a bow. I love all the crafts the CLACS office does," Laforce said.
CLACS staff running the event said the crafting events are some of the most popular and that students should continue to look out for future crafting workshops.
Troy Longman, a Ferris criminal justice senior took a break from studying for the LSAT to hone his crafting skills.
"Ferris is awesome," Longman said. "This is a good event and it's pretty cool."
The workshop was held last Saturday night from eight to eleven at the CLACS office in the University Center.