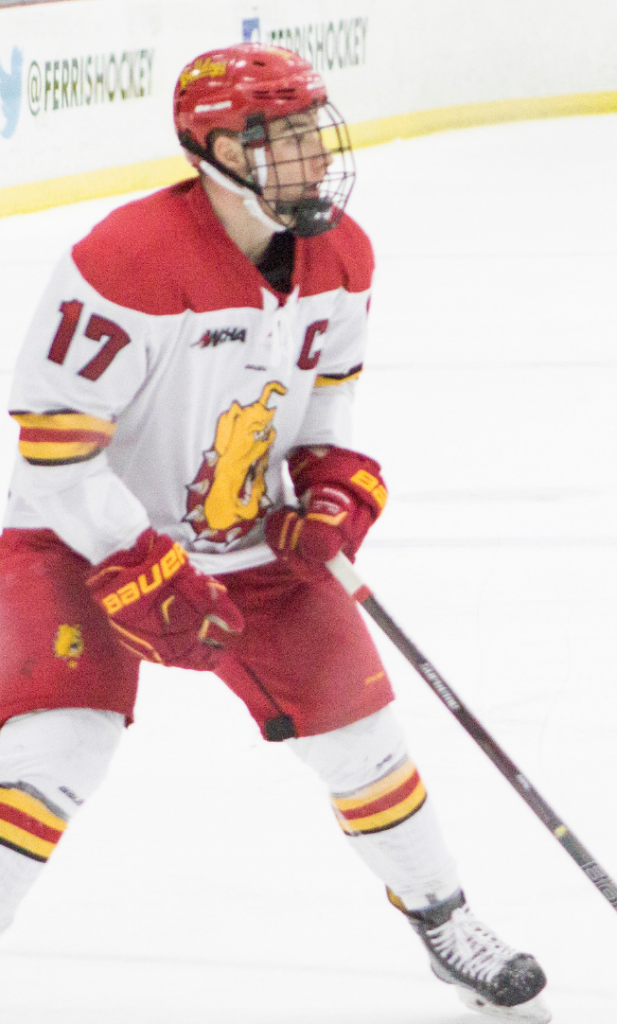 Ferris senior forward Jared Van-Wormer took the ice more than 100times alongside his fellow Bulldogs through his first three years. But now, with 128 games under his belt, he's leading the pack.
VanWormer started his freshman year in 2013, where he dressed in 27games while scoring three goals and recording two assists.
Since then, Van-Wormer has consistently raised his output every year, becoming one of the most consistent players for a successful Bulldog team that made its first ever National Collegiate Athletic Association (NCAA)Regional Final appearance in history last season.
Fast-forward a year later and the young team is now attempting to claw its way through the Western Collegiate Hockey Association (WCHA) standings with an 8-11-3 conference record.
"In recent years, the success never came easy," VanWormer said. "This year is no different. We do have a very young team this year, but after a slow start in the beginning, it seems that we are coming together nicely and we hope to get hot at the right time and see if we can't make another post season run."
If the Bulldogs want to make another deep playoff push, they'll need to get to work quickly. Currently sitting at the fifth spot in the WCHA standings, the team has six conference games upcoming before the WCHA playoffs begin.
The Bulldogs have been the best version of themselves when they can make big plays in big moments. Van-Wormer is no stranger to such things, which is part of the reason the veteran is a captain this year.
Leading a team is more than just putting up outrageous numbers. A true leader know show to get the best play out of himself and those around him, according to VanWormer.
"I like the responsibility and the role," VanWormer said. "I just like to lead by example, more than anything, by working hard on and off the ice and making sure the guys are ready to go in practice and games."
With VanWormer's final season as a Bulldog coming to a close, the senior knows and appreciates all that Ferris has taught him.
"I've loved playing in front of the best fans in the world," VanWormer said. "Being a part of this great program and being able to make so many new friends and share in the success and memories will stick with me forever."
Bulldog fans can catch VanWormerand the rest of the team take on MichiganTech 7:07 p.m. Friday, Feb. 10, in Houghton.