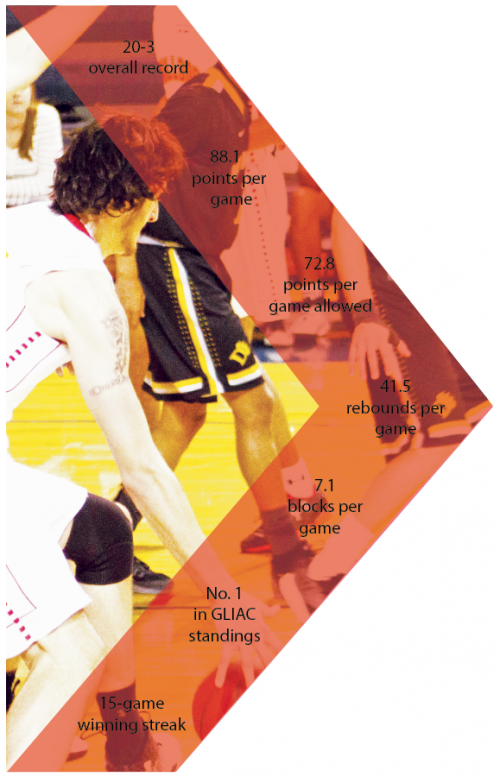 The Bulldogs have tapped their potential this year with "new bloods" and veterans "overachieving" in new roles while dominating the Great Lakes Intercollegiate Athletic Conference (GLIAC).
Ferris basketball holds a 20-3 overall record after rolling Wayne State in the motor city 85-62 Saturday, Feb. 4, to earn a 15th straight win. The Bulldogs are No. 1 in the GLIAC, winning by an average of 12.9 points per game.
"All these guys are overachieving," said Head Coach Andy Bronkema. "That's what it's all about—to see what you can do and what you have in the tank. We have guys that have been here in different positions with the new bloods, making good contributions."
Overachieving does not mean the Dawgs are playing above their heads. Their effort and determination that led to this streak are evidence of the players' potential actualizing.
"Overachieving is a difficult word. It implies that they never had it in them but you always know when they have it," Bronkema said.
After starting 1-2 in conference play, the Dawgs defeated the Hillsdale Chargers by 14 points Saturday, Dec. 10, and have not lost since, going 12-0 in the GLIAC.
"With the four seniors leaving, we weren't fully clicking yet. But we knew we had the talent and the potential to be great," said senior wing Quentin Ruff.
Perimeter defense has been stellar for Ferris this year. Junior forward Peter Firlik has stepped into the role that James Chappell played last year as a defensive stopper. Firlik, along with Ruff and junior point guard Drew Cushingberry, have affected shots on the wing well allowing GLIAC opponents to shoot 41.3 percent, which is second best in the conference.
Junior forward Noah King contributes to that effort and plays crucial minutes for the Dawgs as a stretch four that can rebound and guard the perimeter.
Another player that has stepped up this year is sophomore wing Markese Mayfield, who Bronkema had high regards for.
"Markese Mayfield is definitely somebody that has introduced himself to division two and the GLIAC this year," Bronkema said. "He was always a big time talent but just stuck with it, got an opportunity and hasn't looked back."
Mayfield is the third leading rebounder on the team, averaging 6.5 boards per contest. He is part of a dominating frontcourt rotation, led by sophomore wing Zach Hankins.
Hankins leads the GLIAC in rebounds, blocks and field goal percentage. Consequently, the Bulldogs as a whole rank first in rebounds and blocks. Hankins' fingerprints—or rather palm prints—are seen most in Ferris' block totals, as the Dawgs average 7.9 per game. Hankins alone averages 4.3.
"If you get rid of him, we're a different defensive team. We'd find a way to be good, I believe, but with him we can be a little more aggressive," Bronkema said. "He's like a goalie. That's what it's like with him. Without him— I hope we'll never find out."
Ferris is among the GLIAC's most efficient offensive teams. The Dawgs are first in points scoring 88.1 per game, third in field goal percentage and second in free throw percentage, scoring on 48.5 percent of their shots and converting 75.6 percent at the line. The only GLIAC team better at free throws is No. 2 in-conference Michigan Tech.
The Dawgs may be in the middle of the pack shooting the three, but Ruff is fifth in the GLIAC with 62 made threes and Ferris' leading scorer.
"Quentin's really comfortable with who he is on the floor," Bronkema said. "He doesn't try to be anything else but him and we like who he is. He's more of a complete player this year but it's not a surprise."
Ferris players have worked to get to this point, but the playoffs are five games away and there is work left to do. The Bulldogs still have No. 3 Michigan Tech, No. 4 Lake Superior State and No. 5 Grand Valley left to face.
"We still have some work to do, but I think that everybody on the team is focusing on taking it to another level," Ruff said.
Lake Superior State tips off with Ferris 8 p.m. Thursday, Feb. 9, in Wink Arena.