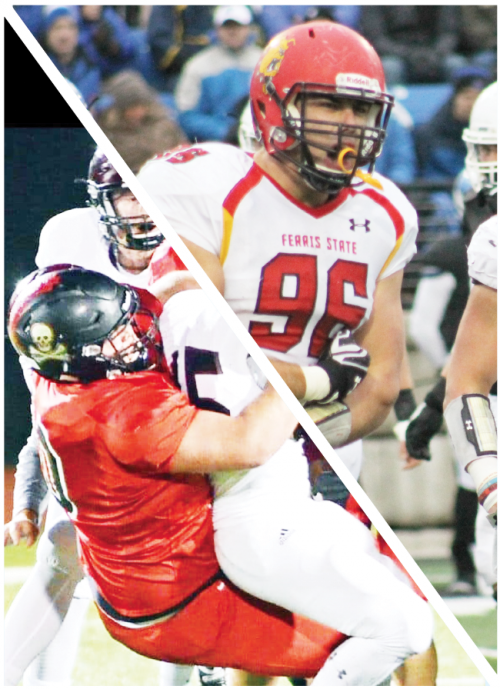 Next Fall, Zach and Adam Sieler will lace up their cleats and put on their shoulder pads as they have for so many years. But this time it's something special. For the first time, the brothers will pull matching crimson and gold Ferris State jerseys over their heads.
Zach, the older of the two brothers, is a sophomore standout on Ferris' defensive line. Zach lead all GLIAC players in 2016-17 with 19.5 sacks and was named National Defensive Player of the Year.
Zach's younger brother Adam is a senior at Pinckney High School and, like his brother, sees his spot in the trenches as a hybrid mix between a nose-tackle and offensive guard. Adam will play offensive line at Ferris and is just one of 29 Bulldog recruits signed on National Signing Day.
Adam insists that there is no sense of competitiveness between he and Zach, but his words say otherwise.
"We are more supportive than competitive," Adam said. "That may change when we play in the next few years, but I do believe I am further ahead of Zach than he was at my age."
Zach, a highly talented recruit, was redshirted for two seasons before getting his chance on the field. Adam's a young player, and will likely serve at least one year as a redshirt.
The age gap between the two brothers never allowed them to play on the same team, but both are excited to finally have the opportunity.
"We've never had the chance to play together," Zach said. "It'll be nice having him around next year even with him being a redshirt. It'll give us a chance to see who the best player is."
When asked who would win in a Sieler-on-Sieler showdown in the weight room, Adam said brother Zach had the advantage. As for who would win in a battle down in the trenches, both brothers had the same thing to say:
"We'll just have to wait and see."
Zach was a force on the defensive line that proved to be a danger to opposing quarterbacks. Meanwhile, Adam will be attempting to protect his quarterback on the offensive line. They may be brothers at home, but they'll be enemies on the practice field come next fall. May the best Sieler win.