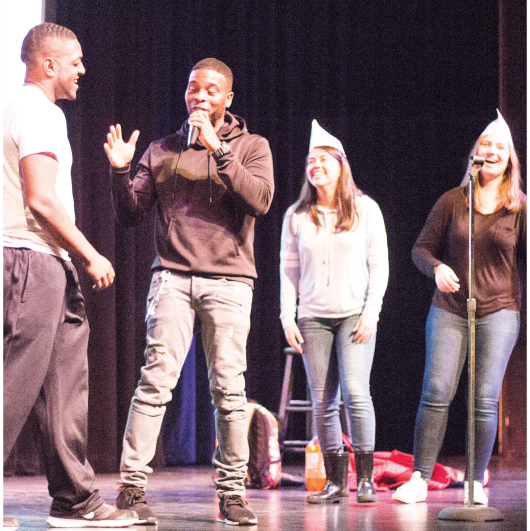 Nineties kids at Ferris State University got the chance to relive their childhood Tuesday, Feb. 7, as actor Kel Mitchell, known for his roles in "All That," "Kenan and Kel" and "Good Burger" performed at Williams Auditorium for the first time ever, courtesy of Entertainment Unlimited.
"When I do my college shows, I turn it into a party," Mitchell said.
He stayed true to this promise with audience participation, as well as freestyle dancing, singing and beatboxing, along with stories of fans following him in the grocery store with grapes in their nose.
Mitchell, a writer and director as well as a comedic actor, has made a return to Nickelodeon on their new show, "Game Shakers." He reprised his character Ed, from "Good Burger," during the 2017 pre-show for the Super Bowl.
"I was a reporter undercover as Ed from 'Good Burger.' We had a good time. I got to meet Lady Gaga," Mitchell said during a Q&A session regarding opening for the Super Bowl.
"I thought that bringing Kel to Ferris would be exciting," said Ferris State music industry management senior Lacie Tryan, who is a past programmer for Entertainment Unlimited and is the current Music Takes Action coordinator. "After all, the 90s are back. With TV reboots such as 'Fuller House' and 'Gilmore Girls,' Kel Mitchell couldn't come at a better time."
The performance showcased nostalgia of his previous 90s shows, standup comedy, a Q&A session and a meet and greet with Mitchell featuring the famous "Kelfie" or selfie with Mitchell.
"I actually messed up in the 'All That' audition and I thought it was over," Mitchell said about how he got into TV. "I actually started out in theatre. I played Jesus in a play before I even got on TV and that was fun. I remember I had some haters. The homies I really wanted to impress, they came in laughing at me. If I didn't keep doing that, I wouldn't be on TV. So, keep following your dreams. Don't listen to the haters."
Mitchell received a Cable Ace Award in 1997 for Best Actor in a comedy series for "Kenan and Kel." He received a Kid's Choice Award in 1999 for Best Actor in a comedy series for "All That" and "Kenan and Kel." He later received two Daytime Emmy nominations in 2001 and 2002 for his voice-over role of T-Bone in the PBS Series "Clifford the Big Red Dog."
According to Mitchell, being on Nickelodeon is not very different now than it was in the 90s, it's the social media that's changed and the slime.
"Slime was made out of apple sauce and food coloring," Mitchell said. "Now they step it up, it's an artificial science concoction. It feels cool, but it gets stuck in places you don't want it to get stuck in."
When asked if he could be any fruit, what would he be and why, Mitchell responded with kiwi.
"Kiwis are annoying though," Mitchell said. "Little furry skin. It's like licking Chewbacca."