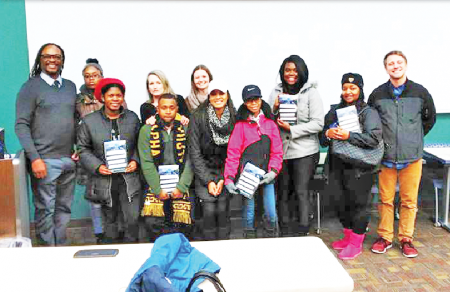 Racism. A word that evokes strong emotions and reactions on university campuses that, because of the past, many in the United States still struggle to come to terms with.
"How do I feel included on this campus?" was the idea that sparked author Lawrence Ross's latest book "Blackballed: The Black and White Politics of Race on America's Campuses."
Ross arrived at Ferris Thursday, Feb. 9, to promote his book and speak with students about campus racism, the history of it and how to prevent it.
"Race is a biological nothing," Ross said. "Race is a sociological something."
Ross began his lecture by asking students to point out members of each race in the room. Reluctant students' first lesson was the need to see race. Being colorblind is an issue that may seem like it's fixing a problem when it's adding to it, according to Ross.
Ross discussed how being colorblind is insulting and is used to ignore the issues of racism on campus, issues such as symbolization, Greek life and mockery.
Ferris advertising and integrating marketing communications senior Shelby Washkevich attended the event for her African literature class, but discovered connections between Ross' message and her everyday life.
"I'm also Greek so it was interesting to see the role Greek life plays in what he talks about," Washkevich said.
Ross stressed past and present issues with racism in sororities and fraternities throughout his lecture. He showed pictures of students from universities with faces painted black along with themed parties where students and pledges dressed as slaves.
As racism in Greek life was unveiled, Ross also showed students how racism is closer to home than they may think.
Harvey Jordan, Richard Russell and Ben "Pitchfork" Tillman were examples Ross used in his lecture. He described these men and their part in racism (such as Jordan's involvement in the sterilization of African American men) and then proceeded to list off present day dorms, statues and buildings dedicated to them.
Ross discussed the problem that symbolism creates and how people see these buildings every day and continue to do nothing and continue to not see what these men represent.
"You don't belong on campus" read a sign shown throughout Ross's presentation. This sign not only represented the violent acts and racial slurs students have said and continue to use, but also represented the lack of inclusion among racial groups, according to Ross.
Ross has written six books and has lectured at more than 600 colleges and universities.
Ross' visit was one of many for the guest speaker series in honor of Black History Month brought to Ferris by the Office of Multicultural Student Services.