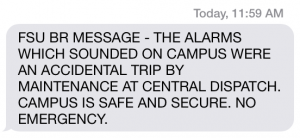 Ferris' Emergency Broadcast System malfunctioned and sounded Thursday, Feb. 16, but there was no emergency.
The loud, high-pitched tone sounded just before noon and could be heard across campus including in the University Center, the IRC and the Prakken Building.
Ferris' Department of Public Safety utilized the emergency text and email alert system to notify students and staff that the tripping of the alarm was accidental.
"The alarms which sounded on campus were an accidental trip by maintenance at central dispatch. Campus is safe and secure. No emergency," read the first alert.
The Ferris community was told to, "anticipate additional sirens," in a second emergency alert while DPS works to correct the problem.