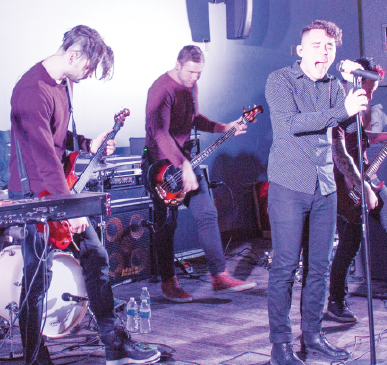 Marina City delivered a rousing performance for the second night of MIMA's Independent Showcase.
The Chicago-based band played a one-hour set Thursday, Feb. 9, in the business building to a much larger and enthusiastic crowd than on opening night of the showcase. Having expected a smaller turnout, the group was happy to rearrange their setup toward the end of the performance to move around more lively.
Following the set, the six-member band moved to a packed MIMA office for an intimate question-and-answer session with concertgoers.
The band members reflected on their influences, the importance of social media in the music industry and what it's like being an independent group.
"You're less important than gum stuck on someone's shoe," joked lead singer Ryan Argast. "It's not easy at all."
Argast, who went to college for music business, shared his advice for making it in the music industry.
"If you don't have an internship or you're not doing something outside of class in the music business, I highly encourage you to do that," Argast said. "Otherwise, everything just goes in one ear and out the other. Take what you're learning and apply it to something right now, not four years down the road."
The band also touched on how it navigated 2015 Warped Tour, where it was the only unsigned band. Marina City scored a 96 percent buzz rating in the Ernie Ball's Warped Tour Battle of the Bands—a competition with hundreds of competitors.
"As an indie band, I think your mission is to get really close with a lot of bands that are signed onto labels," said drummer Eric Somers-Urrea. "Or if there are music industry people on tour, get close to them without being overbearing."
The Q & A session ended with Argast giving his best advice for students hoping to enter the music industry.
"The minute you feel comfortable, that's the minute you need to move on with something else," Argast said. "And that's vocalwise, businesswise, whatever you're doing. Always stretch yourself to be better."
The third and final performance of the Independent Showcase will take place Thursday, Feb. 23, in BUS 111 with Grand Rapids natives likemelikeyou. Tickets are $3 for students and $5 for non-students.