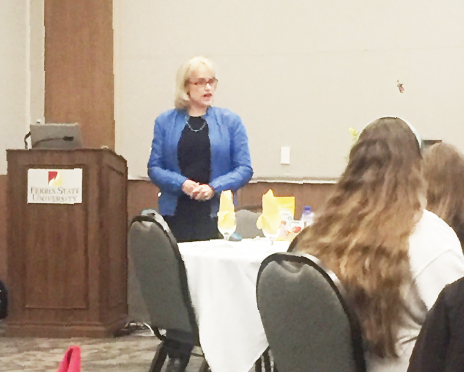 Women in the College of Engineering Technology (CET) came together to connect and embrace what made them choose their field at a dinner hosted by Ferris Tuesday, Feb. 7.
Ferris welding engineering technology junior Chelsey Porter said she attended Ferris because she heard the university has one of the best CET programs.
Approximately 30 women in CET were able to discover some commonalities outside of the academic program.
"Being in a man's field can be different. But I haven't experienced that here at Ferris," said Ferris welding engineering technology junior Cheyenne Kelly.
According to engineeringonline.ucr.edu, since the 1980s, the amount of women in the engineering workforce has increased 14 percent—a drastic uptick from only 5.8 percent.
Ferris alumna and keynote speaker Cindee Wilcox claims being the only woman in plastics engineering technology in the 80s was an advantage and she didn't want it any other way.
Wilcox was able to discuss her successful career in engineering working for companies such as Nestlé and Kraft food the women in attendance at the dinner.
"There are obstacles men don't have to go through that women do because engineering is a male-dominated field," Kelly said.
"I had three years of engineering before attending Ferris, so I knew this field was for me," said Ferris architecture freshman Jeanette Woolridge.
Besides thriving in a male-dominated field, Wilcox encouraged students to take international trips. She believes discovering the beauty of life and nature is something everyone should experience if graced with the opportunity.
"The networking events really give you an opportunity to learn about other students who are in fields that are similar to you," Kelly said. "Maybe meet some new friends or someone who can help you in your career once you graduate."
Since attending the engineering networking events, Porter has accepted a job that she will begin at the start of her post-graduation career.