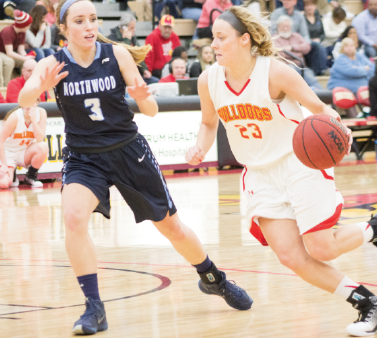 Ferris women's 2017 basketball season has been nothing short of a struggle, but players are looking to improve one game at a time.
With a 5-19 record thus far, the Bulldogs have suffered through a season of tough losses with a win sprinkled in here and there. Players are not letting their poor record affect them. Instead, the players are looking forward.
"We are focused on the next two weeks of the season," said Ferris junior guard Ally Christman. "We know we won't be making the tournament this year, so we are focused on improving and ending the season on a strong note. If we can do that, it'll be a big help heading into next season."
The Bulldogs are tied for 13th place in the Great Lakes Intercollegiate Athletic Conference (GLIAC) with Wayne State.
Nonetheless, the team is preparing in practice as they would if their record was 19-5. The Bulldogs continue to watch tape on their performances and run drills at game speed to improve shooting and defense.
"At this point, we're focused on building chemistry," said Ferris sophomore forward Abby Nakfoor. "Our practice is about an hour to an hour and a half at the end of the season with film sessions before or after."
Even with the record looking the way it does, the Bulldogs have shown a capability to compete with many opponents. Seven of their 19 losses have come with a less than 10-point margin, which is something the team can build from
With only three games remaining in the regular season, time is running out on the 2017 season for the Bulldogs.
Fans hoping to see the Bulldogs finish strong can catch them at Wink Arena 6p.m. Thursday, Feb. 16, when they host Northern Michigan.
Ferris women's basketball will see home court again 1 p.m. Saturday, Feb. 18, against Michigan Tech for the Red Out the Wink and the Rink event.