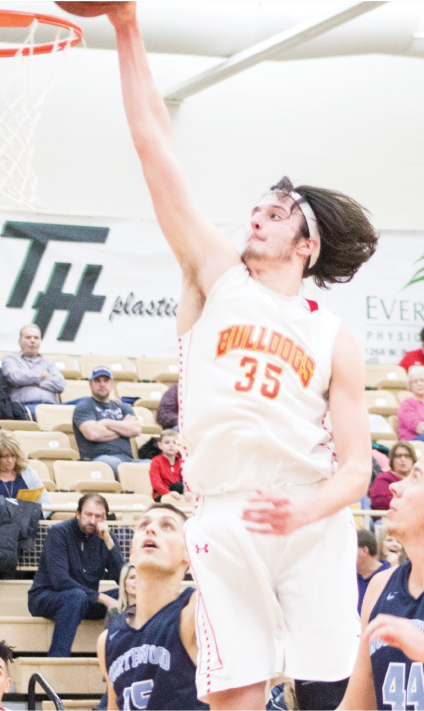 After the loss of their 15-game win streak, the Ferris State men's basketball program is back to focusing on the next game up.
The 21-4 Dawgs fell to Lake Superior State University last week after not losing a single game since early December. Though that streak is dead, their place among the top of the GLIAC is very much alive. Junior point guard Drew Cushingberry is still focused on what's happening with his team at the present moment.
"We don't like to look past any one opponent we face, just stay focused on one game at a time," Cushingberry said. "The streak was nice, but we are just having fun playing hard out there."
Cushingberry averages 10.7 points and plays 26.8 minutes per game, second in playing time only to leading scorer and sophomore post Zach Hankins. The team has four different players who average more than 10 points per game, something beneficial to a team ensuring multiple players contribute come tourney time.
Last season's Bulldogs were forced through a gauntlet of away games in the GLIAC Tournament, something they may not have to do this year as they sit atop their conference.
"Home court advantage is a beautiful thing," Cushingberry said. "Haven't got to play that many games in front of the home crowd this year it feels like, so it's really nice to finally be at home and be playing in front our fans. It's a fun environment to play in and it always helps to feed off the crowd's energy."
Even though the program was unable to capture home court in the playoffs last season, they were still able to produce a 20-win season. With a win over Wayne State Sunday, Feb. 4, of this season, the Dawgs eclipsed that 20-win mark again, giving them their third straight 20-plus-win season in a row.
Junior wing Noah King has been through all three of those 20-win seasons. After the recent loss snapped their current 15-game streak, King said there's no reason to keep that loss in their heads.
"We just get back to work," King said. "Obviously, the loss hurts because we expect to win. But we just have to get back to work and focus on the next game. There's still a lot of season to play."
With only a couple more weeks until GLIAC tourney play begins, as the rankings currently sit, Ferris would play against eight-seed Hillsdale as the No. 1 team in the conference in the quarterfinals.
Ferris State men's basketball will be back in action 8 p.m. Thursday, Feb. 16, against Northern Michigan in Big Rapids.