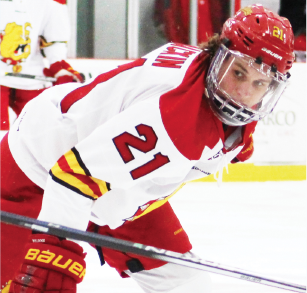 The play of Ferris sophomore forward Corey Mackin was pivotal in last weekend's 1-1 series split at Michigan Tech.
Mackin scored the first goal of the game to help the Bulldogs' offense roll their way to a 3-2 win Friday, Feb. 10. The 5-foot-8, 167-pound forward was also credited with an assist on the following night while winning 23 face-offs and taking four shots over the weekend.
The second-year standout has the team's second most goals with 10 on the season, which matches his total from last season. He also takes runner-up for points on the season with 22.
The Bulldogs will take on Alaska Anchorage for the second time this season when the Nanooks come to town 7:07 p.m. Friday, Feb. 17, in Ewigleben Arena.