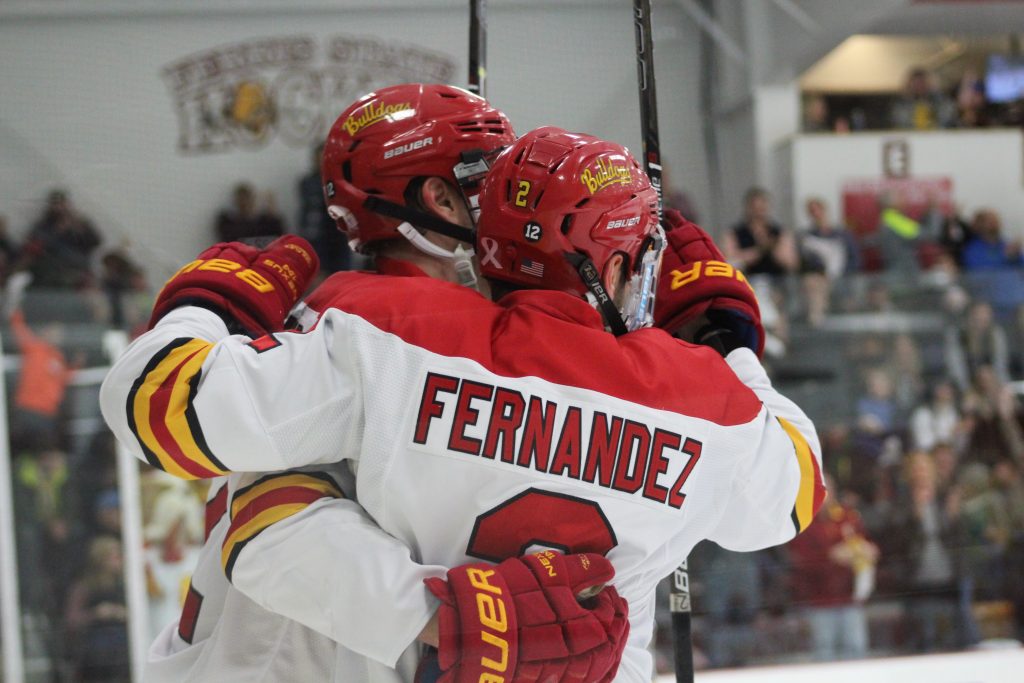 The Bulldogs more than tripled the Alaska Anchorage Seawolves' shots on goal total in a 2-1 victory in Ewigleben Arena.
Ferris's defense was stellar on Friday, Feb. 17, allowing only 11 shots on goal. Stops on defense led to consistent fast break opportunities for the Bulldogs and chance after chance at the net. The Dawgs had 39 shots on goal on the night.
Senior forwards Gerald Mayhew and Chad McDonald applied heavy pressure to the Seawolves' defense in the first period. However, the Bulldogs could not hit net early on.
The Dawgs scored within the first minute of the second on a power play that carried over from the first. Sophomore forward Corey Mackin put it in off assists from McDonald and senior defender Ryan Lowney.
The Seawolves responded seven minutes later to tie the game at one goal each. Following the tying goal, the Dawgs came out with relentless intensity trying to regain the lead. They skated at a fierce pace being their most aggressive all night.
However, The puck remained in purgatory, going back and forth for several minutes before two quick penalties led to a 4-on-4 scenario. Sophomore forward Trevor Recktenwald put the Dawgs up 2-1 with assists from freshman forward Taylor Fernandez and freshman defender Joe Rutkowski soon after.
The Bulldogs held strong the rest of the game playing conservative and forcing the Seawolves to pull their goalie with a minute left in the game. The Bulldog defense fended off the extra skater to preserve the 2-1 victory.
In one of the easier games of his young college career, freshman goalie Justin Kapelmaster faced just 11 shots and stopped 10 of them
Lowney led the Bulldogs with five shots on goal, as well as a goal and an assist.
The Bulldogs will play the WCHA's last place Alaska Anchorage Seawolves again at 7:07 p.m. tomorrow, Feb. 18, in search of their first weekend sweep.