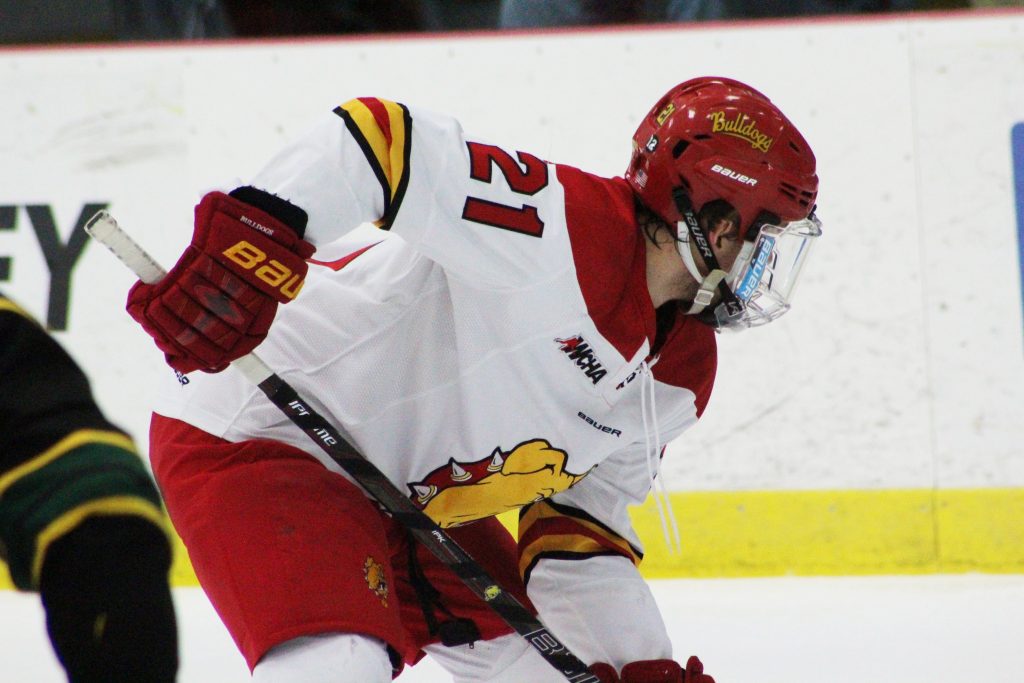 The Bulldogs could not have chosen a better time to earn their second sweep of the season.
Ferris shutout Alaska Anchorage 3-0 after finishing them 2-1 on the previous night, thus earning the Bulldogs six much-needed points towards the conference standings.
The Dawgs' offense saw plenty of shots on the night, but it was Ferris sophomore forward Corey Mackin who was able to find twine. Mackin scored first at the 7:40 mark of the first period then again just eight minutes later. Senior forward Gerald Mayhew was credited with an assist on both goals, while senior forward Jared VanWormer tallied one assist.
Ferris kept up the offensive pressure throughout the game, but was unable to connect again until late in the third period after the Seawolves pulled their goalie. Ferris junior forward Mitch Maloney scored the freebie with help from senior forward Chad McDonald.
Ferris sophomore goaltender Darren Smith earned the shutout in net by saving all 23 of the shots he faced on the night. The Bulldogs overwhelmed the Seawolves on the other end of the ice with 52 shots on goal.
With the win, the Bulldogs improve to an 11-12-3 conference record, which is good for a tie with Bowling Green State for fourth place. The top four teams earn the privilege to host the first round of the conference playoffs.
McDonald, VanWormer, Mayhew and senior defenseman Ryan Lowney were all recognized for their careers at Ferris as part of Senior Day.
The Bulldogs will look to secure home ice in the first round of the WCHA Playoffs when they take on Lake Superior State in the last regular season matchup of the year at 7:37 p.m. Friday, Feb. 24, in Sault Ste. Marie, Michigan.