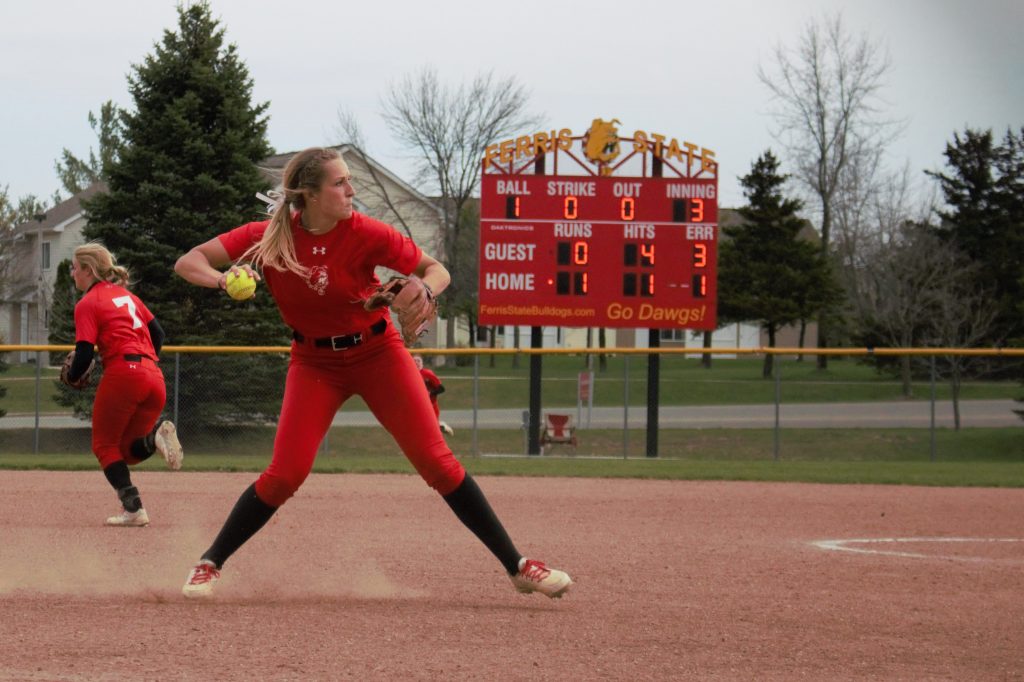 Ferris senior third basemen Bailey Darwin's father was instrumental in her development as a player and even though he's passed away, Darwin says every game is for him.
Third baseman Darwin was second team All-Region last year and led her team with 64 hits and 41 RBI's. She is a leader on a team that has just recently tasted success after enduring years of instability.
Ferris went 29-56 in Darwin's first two years as a Bulldog. Div. 1 Head Coach Wally King took over after the 2015 season and changed the culture of the team.
"My first two seasons here, we got yelled at all the time and we weren't successful," Darwin said. "When Wally came in, he just stepped aside and didn't yell at us. When things weren't going well during practice, he wouldn't yell at us and tell us what to do. He had us notice it and recognize it."
Under King, the Bulldogs went 36-18 and finished fifth in the GLIAC. The change he brought was not just in the coaching staff's instructional approach, but also in the confidence of his players.
"Now we know what we're capable of," Darwin said. "We saw all that potential our first two seasons but we never saw the results of being good. Wally brought that out in us and showed us what we could be."
After just one year, King left Ferris to be Div. 1 assistant coach at South Florida leading to the third head coaching change during Darwin's tenure. The only consistent aspect of the team has been the players. This constant overturn has brought them together.
Senior first baseman Sarah Ferenz said, "We've gone through several different coaches now. I think the team has done a fairly good job of sticking together and working together which I think ultimately will be good for us to be successful this year."
Darwin sent a group text to her teammates after King announced his departure which echoed that just because he's gone, that does not mean their success is.
"Now that we saw what we did last year, it turned our entire vision around. We know now we can be successful regardless of the coaches because we're the ones playing," Darwin said.
Reaching out to her team, Darwin showed why she is regarded as a leader off the field. On the field, she leads with action and is said by her teammates to be one of the hardest workers on the team.
"She shows her leadership by example and with her voice," Ferenz said. "Third base is an important leadership position and she commands the team."
Darwin's love for softball began as a four-year-old attending her father's slow-pitch games and watching her two older sisters play. Her father, Brian Darwin, was instrumental in her development as a player.
"He was always the person to practice with me and catch for me when I needed him to so he really helped me get to where I am now," Darwin said.
Brian passed away before he got to see his youngest daughter play in high school or college softball, but he has been with her in every game. During the pre-game national anthem, Darwin closes her eyes and talks to her father.
"I ask him to be with me as I play and to protect me, keep me positive and focused on the game," Darwin said. "I always end by saying, 'I'm playing for you, Dad.'"
Darwin has mixed emotions about her last season playing softball. This sport has been her life since she could remember so it's tough to accept its finality. However, she embraces the change to come.
After graduation, Darwin plans on working and saving up money so she can travel before settling down for her career.
When she is done exploring, she would like to own her own business involving her graphic design degree, including website development or designing logos.
Darwin was raised in an artistic family, often making crafts with her mother, so she would like to make a living using that passion.
The Ferris softball team begins the season Friday, Feb. 24, when the Bulldogs head to Evansville, Indiana, for the Midwest Region Crossover. They will play six games through Thursday, Feb. 26, in hopes of kindling another successful season.