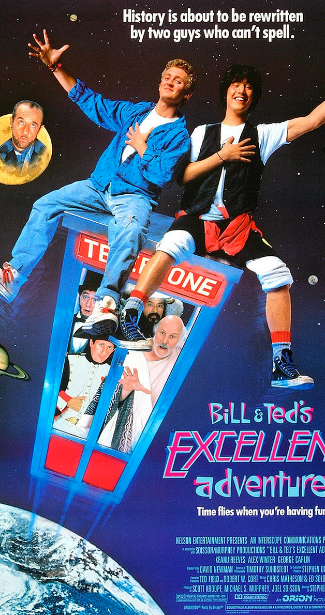 The bogus boys from San Dimas, California, are finally back for round three! Well… hopefully.
Keanu Reeves, who plays "Ted" Theodore Logan in the Bill & Ted franchise, said the story was written and discussed the potential plot for the third installment in the franchise during a recent interview on The Graham Norton Show.
"Basically, they're supposed to write a song to save the world and they haven't done that yet," Reeves said. "The pressure of having to save the world, their marriages are falling apart, their kids are kind of mad at them and then someone comes from the future and tells them if they don't write the song it's not just the world, it's the universe. So they have to save the universe because time is breaking apart."
Wow. That's a bodacious task for my two favorite cult-classic stoner buddies. Also, this sounds so awesome and the world needs their triumphant return. The only heinous thing about a new movie is that late actor/comedian George Carlin will not be able to return to his role as Rufus—Bill and Ted's guide from the future.
Many great buddy films were released between the late 1980s and early 2000s: Dumb and Dumber, Tommy Boy, Bio-Dome, Dude Where's My Car, Good Burger and Half Baked to name a few. But Bill & Ted always ranked highest on my list.
Bill & Ted's Excellent Adventure (1989) is one of my favorite films of all time. Bill & Ted's Bogus Journey (1991) was an excellent follow up.
Talks of a third film began in 2010. In 2016, Alex Winter, who plays Bill S. Preston Esquire said the script for the film was completed and filming may begin in 2017.
While filming has yet to begin, I believe the rumors will prove true. Normally, I would never care for a third film of a franchise 26 years later, especially when the two main characters are now both in their 50s. But this is different.
Reeves would not make the movie unless he believed it would be most outstanding. And it will be, because the world needs Bill & Ted to save their world and universe and when they do, it will be a triumphant victory.
Until Bill & Ted hit the big screen for a third venture, "Be excellent to each other and party on dudes!"