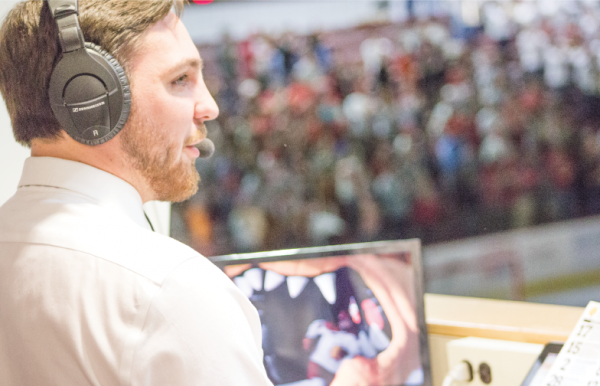 There is much more than just a pretty voice behind the man calling all of the Ferris State hockey games.
Harrison Watt, also known as the, "Voice of the Bulldogs," has covered or broadcasted 148 Ferris State hockey games during his time as a Bulldog either as a reporter, or with his current position as the play-by-play announcer for Ferris State hockey.
With his current internship as a communications assistant for Ferris State, Watt is also responsible for doing pregame interviews, filling the hockey line charts, printing copies for game time, building social media posts for men's and women's basketball as well as hockey, live-tweeting basketball, editing video highlights after games, and the list goes on.
Though a lot of work goes into a day of Ferris athletics, Watt makes sure to enjoy it as it's happening.
"Those days, as unbelievably long as they can be, you know, they're an absolute blast. I really enjoy it," Watt said. "It takes my mind off of homework."
As a student with a full time job, Watt has taken over a lot of responsibilities in the course of the year, giving him a lot to do during a weekend of home games.
Saturday, Feb. 18, was the annual Red Out for Ferris State, a busy day for winter sports hosted by the Sports Careers RSO in support of heart health.
Watt started his Saturday at 7:30 a.m., preparing for his day before heading off to the ice rink. Once he makes it to Ewigleben, Watt sits down with the hockey coaches and gets the lineup from them before printing out copies of each lineup and delivering them to the locker rooms.
After completing his early morning hockey duties, Watt makes the trip across the hall at 1 p.m. to the basketball games where he live tweets both the men's and women's competitions. Before the live tweeting, Watt makes sure that the basketball live-streaming equipment is set up.
Around 4:30 p.m., both basketball games are winding down, allowing Watt to head back over to the ice rink, set up his broadcasting equipment, write his pregame script, and prep by talking to himself for 30 minutes
As funny as that sounds, Watt creates an excel spreadsheet where he times out how long he needs to talk about each segment, giving him enough material to discuss before puck drop. After that's all said and done, Watt sits down and does what he does best.
Manager of Game-Day Operations Nick Owens works closely with Watt. Owens spoke highly of Watt's love for Ferris State.
"Harrison is so incredibly passionate about hockey and Ferris athletics in general," Owens said. "He absolutely loves what he does and loves having the ability to do it here at Ferris State."
Watt is not guaranteed to come back as the Voice of the Bulldogs next year, so Saturday could have been his last home game if the Bulldogs aren't able to secure home ice for playoffs. Watt said he would love the opportunity to come back to Ferris if given the chance.
"I love calling college hockey so much. I think I need more experience at this level before looking onwards and upwards," Watt said. "But my childhood dream of calling an NHL game will always drive me."
Watt said that one of his most fond memories over the course of his past five years was coining the term, "Gerrytime," a phrase that blew up and is used when senior forward Gerald Mayhew comes in clutch with a goal.