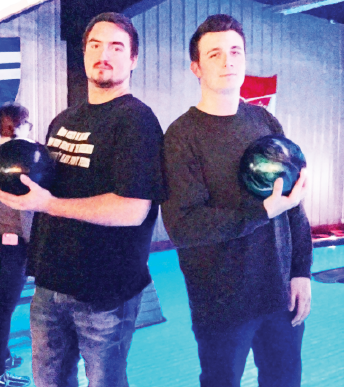 You could hear a pin drop as the Ferris American Marketing Association (AMA) held a charity bowling tournament last week at the Gate.
The semi-annual tournament was organized to raise money for Feeding America, an organization that provides meals to those in need. This semester the proceeds will go towards bringing a food truck to feed families in Paris, Michigan.
Ferris marketing junior Trevor Holowaty is AMA's vice president of fundraising whom along with others, organized the event.
"It's one of my favorite events of the year for the college of business. It's for a great cause," Holowaty said. "We are bringing in a lot of money to help good families with feeding America and it gives us a chance to work with other RSOs and collaborate."
Bowling teams competing in the tournament were made up of seven college of business registered student organizations (RSOs), two sororities, two teams made up of Ferris faculty and the Ferris club baseball team.
"It gets a lot of different RSOs from the college of business and around campus together," Holowaty said. "It's a good time to involve the community with the gate, faculty and members of the student body."
In addition to raising money for charity, the tournament also gave The Gate an opportunity to introduce people to their new location. The Gate opened the doors of its new facility Monday, Feb. 6.
Ferris hospitality management senior Lauren Thomas bowled for the hospitality management RSO.
"I didn't expect this many people [to be]here," Thomas said. "It's the first time I've been to the new gate so it's pretty cool."
AMA's bowling tournament has been held each semester since fall of 2008. The tournament was held 9:30 p.m. to 11 p.m. Thursday, Feb. 16.